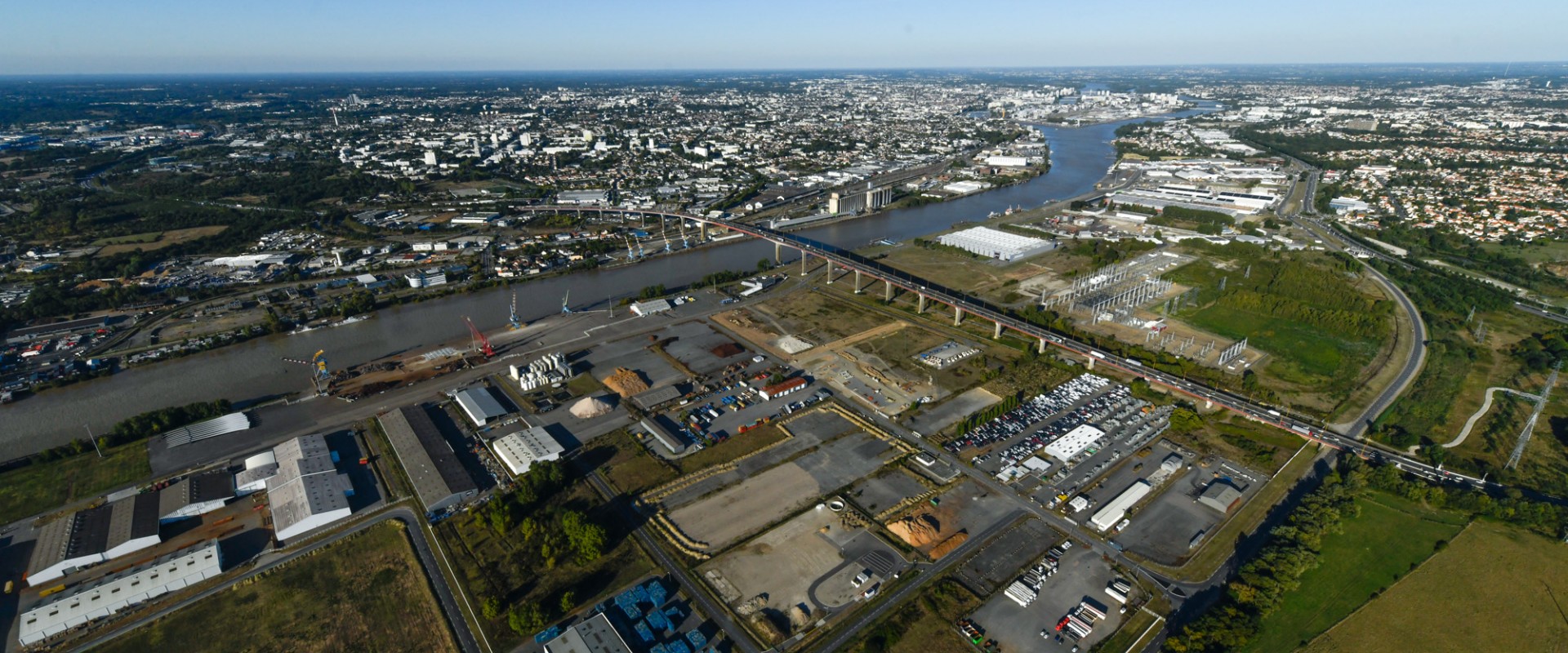 Real-estate offers
Are you looking for a plot of land or a building to grow your business?
Find out about our offers of real estate available for short-term or long-term occupancy.
Nos appels à manifestation d'intérêt
AMI Hydrogène
Nantes Saint-Nazaire Port est le 4e grand port maritime français et constitue aujourd'hui un hub énergétique majeur, d'envergure nationale et internationale.
Positionné au cœur d'un territoire complexe et dynamique, Nantes Saint-Nazaire Port s'engage résolument dans la transition énergétique. Avec ses partenaires industriels et territoriaux, et notamment la Communauté d'Agglomération de la Région Nazairienne et de l'Estuaire, il s'inscrit aujourd'hui dans une trajectoire de développement d'une « Zone Industrielle Bas Carbone » (ZIBaC). 
C'est dans cette perspective que le Grand Port Maritime de Nantes Saint-Nazaire propose de mettre à disposition un foncier de 12 ha localisé au cœur de son écosystème industriel et logistique, à Montoir-de-Bretagne, pour accueillir un projet d'implantation d'une activité de production industrielle et de distribution d'hydrogène renouvelable et/ou bas carbone et d'e-carburants dérivés.
Pour recevoir le règlement de la consultation de l'AMI, qui prévoit une première phase de présélection de candidatures, les sociétés intéressées doivent adresser une demande par voie électronique à l'adresse suivante : amih2@nantes.port.fr
Pour toute demande d'information, les sociétés intéressées peuvent contacter la Direction du Développement :
Ludovic Bocquier : 02 40 44 20 71

Amélie Hamon : 02 40 44 20 48 
Les dossiers de candidatures sont à adresser par voie électronique au plus tard le 16/01/2023 à 12h à l'adresse suivante : amih2@nantes.port.fr
Mise en ligne : 21 novembre 2022
Download all our real-estate offers
Assisting You with Your Project
Nantes − Saint Nazaire Port's teams offer assistance during all the phases of your project.
Applications will be processed within the framework of an ISO 14001 certified procedure, based on the prior submission of a complete dossier presenting the business development project (activities, surface area, duration and sites requested, sea and inland waterway traffic generated, investment, jobs created, environmental protection rating for the project). The specific conditions regarding the occupancy of Nantes − Saint Nazaire Port real estate (site, surface area, duration, pricing, etc.) will be determined according to the given criteria for each project.
Do you want to obtain information about the plots of land and buildings that are available?
Amélie Hamon : (+33) (0)240 442 048