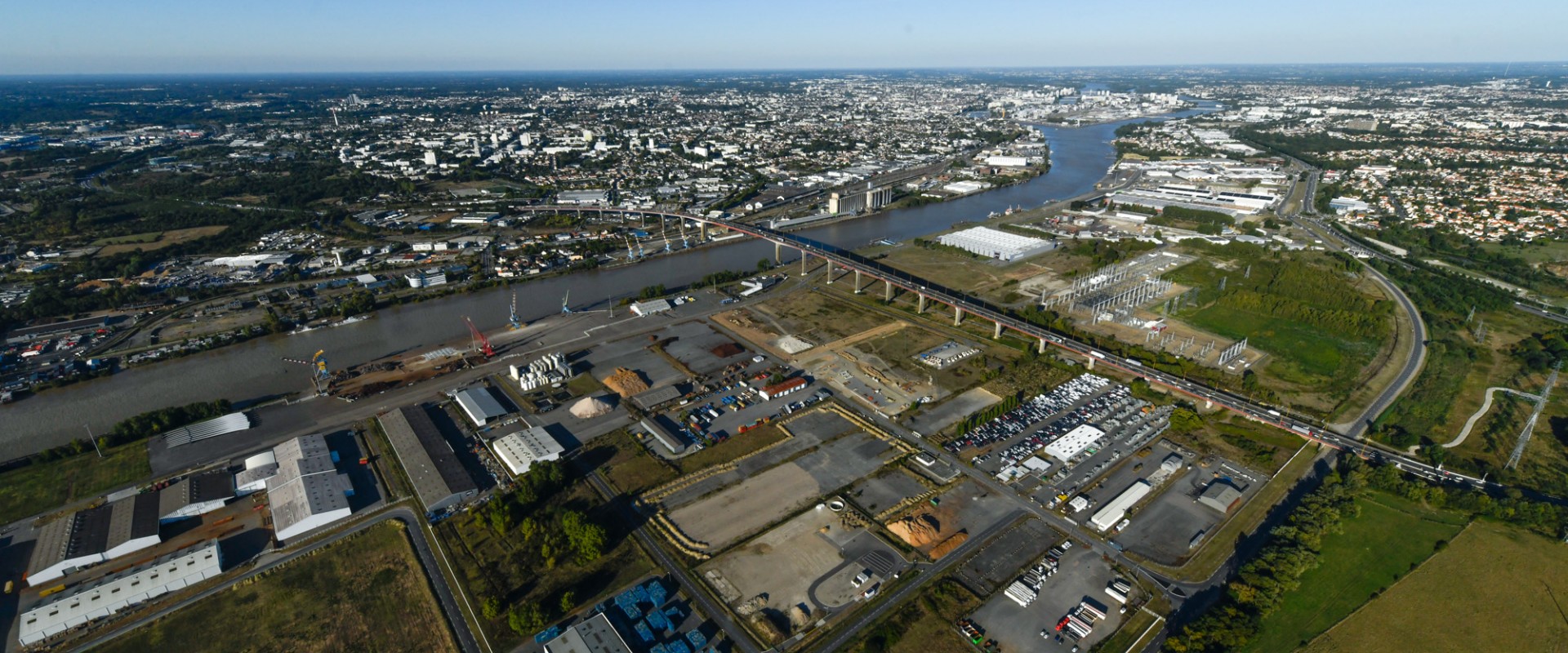 Real-estate offers
Are you looking for a plot of land or a building to grow your business?
Find out about our offers of real estate available for short-term or long-term occupancy.
Reaching out over France's Atlantic Seaboard
With direct access to a nearby market of 13 million consumers, and located at the heart of France's fourth largest industrial region, Nantes ‒ Saint Nazaire Port is a multimodal hub which is accessible to five different modes of transportation (sea, rail, road, air and inland waterway) and which possesses international links, with more than 10 maritime routes and connections to 500 ports worldwide.
The port and industrial complex comprises 450 firms and companies, and generates over 25 000 jobs (2020 study by INSEE, the French National Institute of Economic and Statistical Information).
The Port Authority area covers a total surface area of 2 700 hectares, half of which is preserved as natural and environmentally significant spaces.
A genuine tool for economic growth, Nantes ‒ Saint Nazaire Port has land and buildings that are available for commercial use, to accommodate development projects in certain parts of the Port Authority area.
You will find below the list of real-estate offers, updated on a quarterly basis.
Download all our real-estate offers
Assisting You with Your Project
Nantes − Saint Nazaire Port's teams offer assistance during all the phases of your project.
Applications will be processed within the framework of an ISO 14001 certified procedure, based on the prior submission of a complete dossier presenting the business development project (activities, surface area, duration and sites requested, sea and inland waterway traffic generated, investment, jobs created, environmental protection rating for the project). The specific conditions regarding the occupancy of Nantes − Saint Nazaire Port real estate (site, surface area, duration, pricing, etc.) will be determined according to the given criteria for each project.
Appel à manifestation d'intérêt pour une plateforme industrielle d'assemblage EMR
En raison de l'annonce tardive de l'arrivée de navires rouliers à manutentionner, Nantes Saint-Nazaire Port s'apprête à délivrer une Autorisation d'Occupation Temporaire (AOT) sur le parc 5 du terminal roulier de Montoir-de-Bretagne à compter du 1er août 2022.
Toute demande concurrente est à adresser avant cette date à l'adresse suivante : gestiondezone@nantes.port.fr
Date de mise en ligne : 29 juillet 2022
Do you want to obtain information about the plots of land and buildings that are available?
Amélie Hamon : (+33) (0)240 442 048