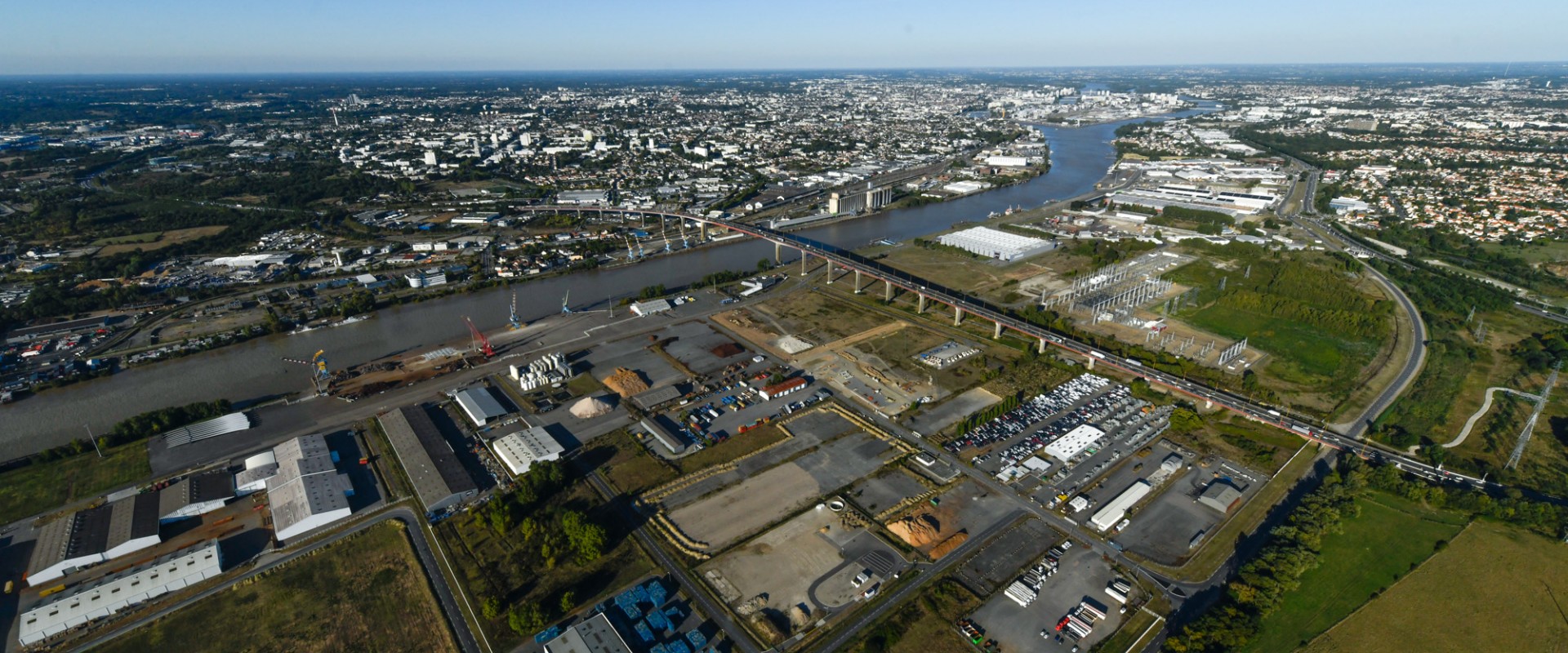 Real-estate offers
Are you looking for a plot of land or a building to grow your business?
Find out about our offers of real estate available for short-term or long-term occupancy.
Nos appels à manifestation d'intérêts
AMI panneaux publicitaires
Nantes Saint Nazaire Port lance un appel à manifestation d'intérêt afin de sélectionner un ou des opérateurs économiques en vue de délivrer une ou des conventions d'occupation temporaire auprès de sociétés d'affichage publicitaire.
Les opérateurs intéressés peuvent télécharger le règlement de consultation de l'AMI depuis cette page.
Les dossiers de candidature sont à adresser au plus tard le vendredi 29 septembre 2023 à 12h00 :
au format papier sous pli cacheté portant les mentions : "Dossier de candidature pour Appel à Manifestation d'Intérêt, Panneaux publicitaires 2023, NE PAS OUVRIR" à l'adresse suivante : GRAND PORT MARITIME DE NANTES SANT‐NAZAIRE, Monsieur le Président du Directoire, 18 Quai Ernest Renaud, 44186 Nantes CEDEX 4

et par courrier électronique au aux adresses suivantes : : gdom@nantes.port.fr et jb.peres.lab@nantes.port.fr
Télécharger le règlement de la consultation
Modèle de convention (annexe 1) 
AMI pour un lieu culturel, festif et de loisirs sur le toit de l'écluse fortifiée
Nantes Saint-Nazaire Port, la Ville de Saint-Nazaire et Saint-Nazaire Agglo lancent un appel à manifestation d'intérêt (AMI) pour confier à un porteur de projet la réalisation sur le toit-terrasse de l'écluse est fortifiée d'une salle de concert et d'évènements culturels, festifs et de loisirs, pouvant également accueillir des séminaires d'entreprises, des conférences et manifestations diverses en journée.
Cet équipement, situé sur un site exceptionnel, devra proposer une offre musicale, culturelle et festive, s'adressant à un public local élargi, et complémentaire de l'offre culturelle existante sur le territoire de l'agglomération. Le lieu, de par sa qualité architecturale et sa programmation, devra contribuer à l'attractivité de Saint-Nazaire et à l'activation de ce secteur de la ville.   
Le dossier AMI sera transmis par mail sur demande à l'adresse suivante : ami-eclusefortifiee@agglo-carene.fr.
Les candidats devront déposer un dossier de candidature (CV, lettre de candidature et dossier d'offre complet) avant le 15 janvier 2024 à 12h00 à l'adresse indiquée ci-dessus.
Assisting You with Your Project
Nantes − Saint Nazaire Port's teams offer assistance during all the phases of your project.
Applications will be processed within the framework of an ISO 14001 certified procedure, based on the prior submission of a complete dossier presenting the business development project (activities, surface area, duration and sites requested, sea and inland waterway traffic generated, investment, jobs created, environmental protection rating for the project). The specific conditions regarding the occupancy of Nantes − Saint Nazaire Port real estate (site, surface area, duration, pricing, etc.) will be determined according to the given criteria for each project.
Download all our real-estate offers
Do you want to obtain information about the plots of land and buildings that are available?
Amélie Hamon : (+33) (0)240 442 048