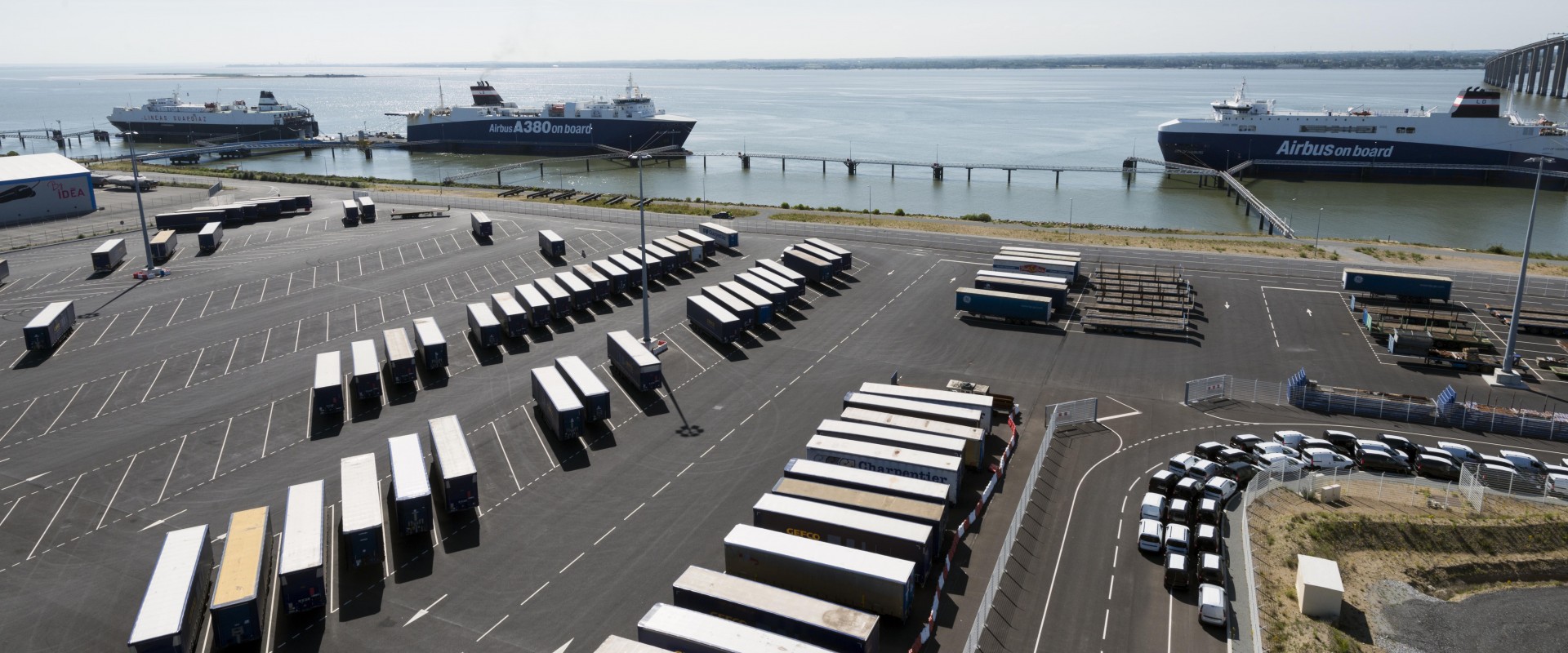 Ro-Ro
A Flexible, Competitive Ro-Ro Terminal
Ideally situated at the crossroads of physical flows between North Europe, the Mediterranean and Africa, the Montoir de Bretagne ro-ro terminal is the principal facility of this type on France's Atlantic Seaboard. The recent improvements that have been made mean that the ro-ro terminal is able to receive a greater number of vessels and to offer a larger storage area.
Liner Services Giving You Worldwide Connections
This is one of the major advantages of the ro-ro terminal: two shipping lines (Suardiaz and LD Seaplane) provide scheduled shipping services departing from Montoir de Bretagne.
Suardiaz manages the maritime motorway between Montoir de Bretagne and Vigo, which operates three times a week, as well as a full Atlantic service to Zeebrugge in the north and to Tangiers in the south. The latter service is connected via Tangiers to Bursa in Turkey, to bring back vehicles built at that location.
LD Seaplane has put in place links to the Mediterranean (the Milk Run Med service to Tangiers, Tunis and Naples) and to the North Sea (the Milk Run North service to Hamburg). This second service has just been amalgamated with another service, so as to propose a scheduled transatlantic service to and from Mobile (Alabama, USA). From January 2021, this service will also take in Belfast, in Northern Ireland.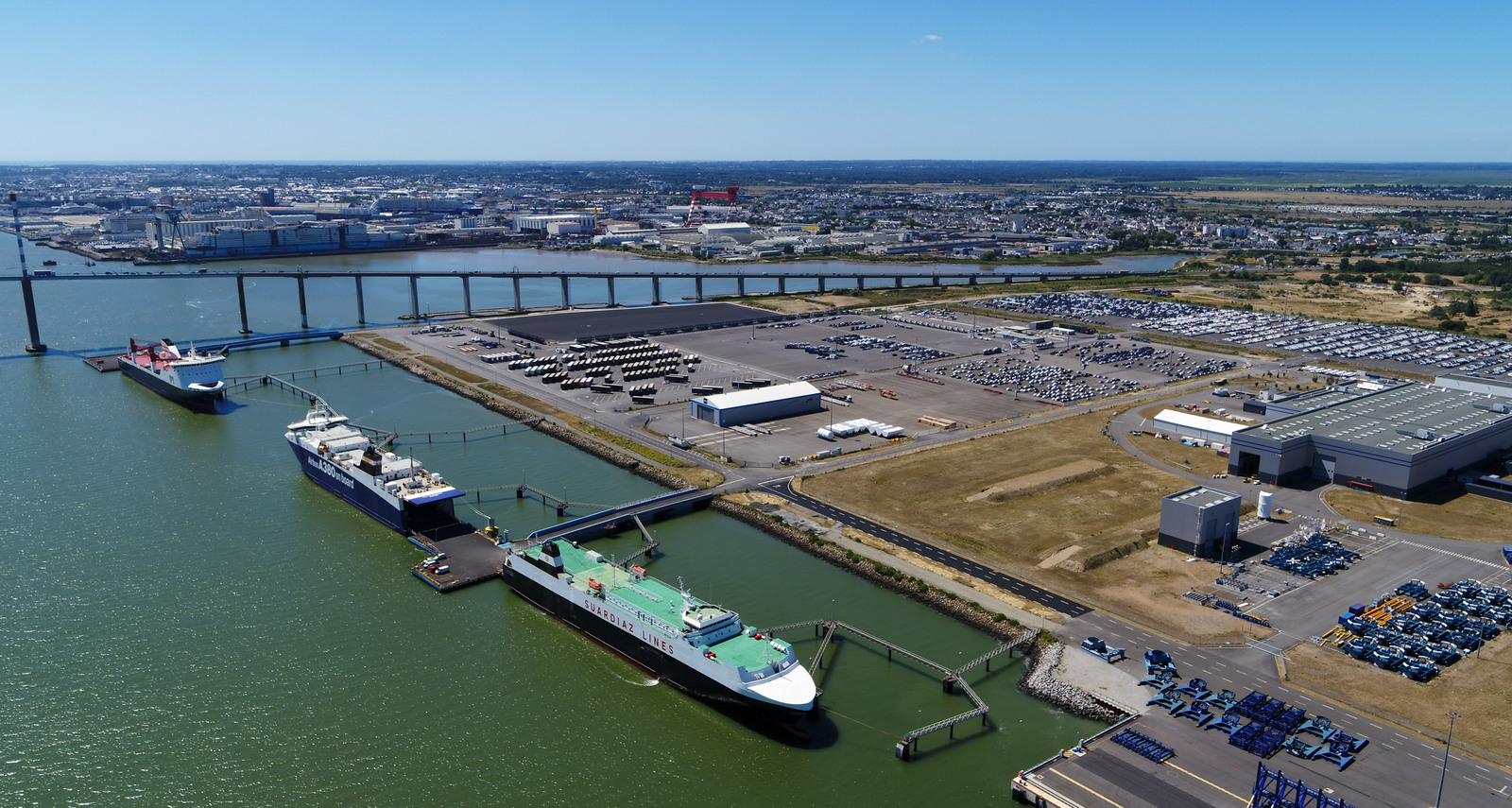 More Capacity to Accommodate You
The Montoir de Bretagne ro-ro terminal has seen some significant changes in recent years. On the maritime side of operations first of all, with the installation of new floating pontoons offering access for stern, side and stern three-quarter ramp vessels. These new improvements enable the ro-ro terminal to receive several vessels at the same time. The storage capacity in the paved areas has also been increased (40 hectares, with nearly 10 hectares in reserve). Imports of new vehicles and consignments of components for aircraft manufacturer Airbus form the main part of the throughput at the ro-ro terminal, but the facility also handles HGVs, unaccompanied trailers, automotive components or industrial heavy-lift cargo consignments (operations carried out by Somaloir and IDEA Logistique).
Logistics Providers: a Preparation Centre at Your Service
A vehicle preparation centre is available for use by the three automotive logistics providers present on site (Gefco, Cat and Baudron). Flocking, installation of accessories, electronic and mechanical checks... the vehicles transiting Montoir de Bretagne can be fully prepared at this centre.
A Terminal that (Multi-) Connects You
The four berths at the ro-ro terminal are connected not just to the dual carriageway linking Nantes and Saint Nazaire, but also to the rail network (a 750-metre-long length of track able to receive whole trainloads). Montoir de Bretagne is also connected to Nantes by inland waterway: the Flexiloire service guarantees a frequency of 240 rotations a year between Cheviré and the ro-ro terminal. The barges travelling up the Loire Estuary mainly transport Airbus aircraft components, but of course accept other types of cargo as well!
An industrial facility comprising…
Atlantic Ro-Ro Centre for consolidated documentary checkser 
A Vehicle Preparation Centre offering pre-delivery inspection (PDI), cleaning services, installation of accessories
21 hectares of storage area for new vehicles
4 hectares of storage area for trailers
21 hectares held in reserve

A rail-connected terminal
Reception of 4 vessels at the same time
Two floating pontoons
A reinforced quay permitting the reception of vessels of the three-quarter ramp type
"As soon as we say we need something ‒ additional storage area or new equipment such as electric recharging ports ‒ Nantes ‒ Saint Nazaire Port examines the feasibility of the project and the associated time frame. That kind of information sharing is very valuable when it comes to providing the best possible response to the constraints of our customers, who are motor vehicle manufacturers."
Georges Ribeiro, Director of the Gefco Agency in Saint Nazaire
Need more information?
Contact our Ro-Ro Business Unit Manager, Tanguy Jacob.