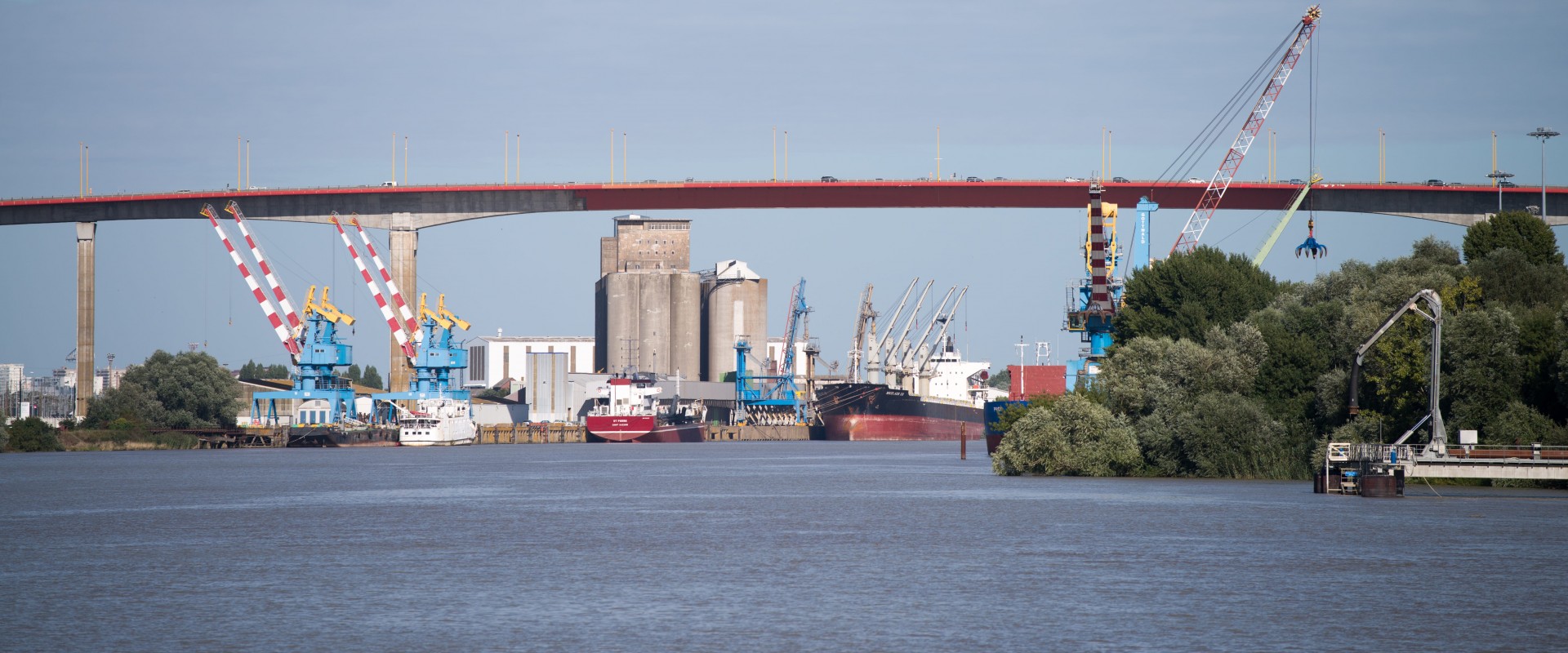 Nantes Port Facilities
Becoming an Urban Logistics Player
What is the key strong point of the Nantes port facilities? Their proximity to the Metropolitan Area. The storage capability and the real estate reserves are attractive, and the development potential is significant, notably with ecological transition in view.
Si l'activité portuaire est en grande partie concentrée sur l'aval de l'estuaire de la Loire, les sites nantais occupent toujours une place clé pour l'attractivité du port et du territoire. Chaque année, près de 450 navires y font escale. Le trafic portuaire avoisine les 2 millions de tonnes, soit 6 %  du trafic total de Nantes Saint-Nazaire Port, l'équivalent d'un port de commerce régional comme celui de Lorient. Les sites portuaires voient transiter une grande diversité de marchandises. Vracs liquides, vracs agroalimentaires, produits forestiers, colis lourds, vracs de construction ou encore de recyclage…
A Logistics Hub Serving the Metropolitan Area
Long known as a "timber port" up until the early 2000s, over the years Cheviré has developed a new vocation as an urban logistics hub. Complementary to the different port infrastructures located downriver, the Nantes port facilities represent a complete logistics offer at the heart of a major metropolitan area. They possess by no means inconsiderable advantages for future peri-urban area business locations, whether directly or indirectly linked to transportation by sea: multi-purpose port terminals located in immediate proximity to the Nantes ring road, a railway branch line, and connections by barge between Nantes, Montoir de Bretagne and Saint Nazaire. Just recently, in 2020, it was on this site at Cheviré that the companies Suez and Charier chose to locate their centre of operations for the recovery of waste products generated in part by building and civil engineering projects in the Nantes Metropolitan Area, with the intention of using inland waterway transportation to convey some 30 000 tonnes of waste products a year.
The Nantes port facilities in brief  
Nantes Cheviré, operated by Nantes Port Terminal (a subsidiary company of Nantes ‒Saint Nazaire Port): construction sector bulk cargo (timber, sand), recycling sector bulk cargo (scrap metal, earth, waste timber), breakbulk and miscellaneous cargo (fertilizers, organic grain and cereals, peat, onshore wind turbines), heavy-lift cargo consignments…
Roche Maurice, operated by Invivo: grain and cereals
Cormerais : liquid bulk chemicals and refined petroleum products
The economic fabric
Thirty or so companies established in the port area, including Derichbourg, GROUPE ISB, Invivo, Suez, Saremer, Lafarge Granulats, GSM, Eliard, Alkion, Sea Invest, Sogebras,...
The sectors
Refined products
Cereals
Scrap metal
Wood
Fertilizers
Sea Sand
Chemical products
Other goods
Advantages Offered
Multimodal facilities : an immediate connection to the River Loire, to the rail network, to the expressways
Plant and equipment, handling and logistics suited to a great diversity of types of cargo
Our ambition is to turn the upriver facilities into a logistics hub serving the Metropolitan Area. In particular for the transportation and storage of construction materials or of the earth and rubble from the Metropolitan Area's future large-scale work projects.
Stéphane Pin, Manager in charge of the Upriver Facilities Business Unit and of Nantes ‒ Saint Nazaire Port subsidiary company Nantes Port Terminal
Nantes Manutention handles approximately 450 000 tonnes of cargo every year, including timber for the construction sector or recycled products. The geographical location of the port facilities is ideal, with the proximity to the Metropolitan Area and with the ease of access by road. And you can also factor in the considerable storage capability in the different dock areas.
Sébastian Rault, Nantes Manutention Sea-Invest