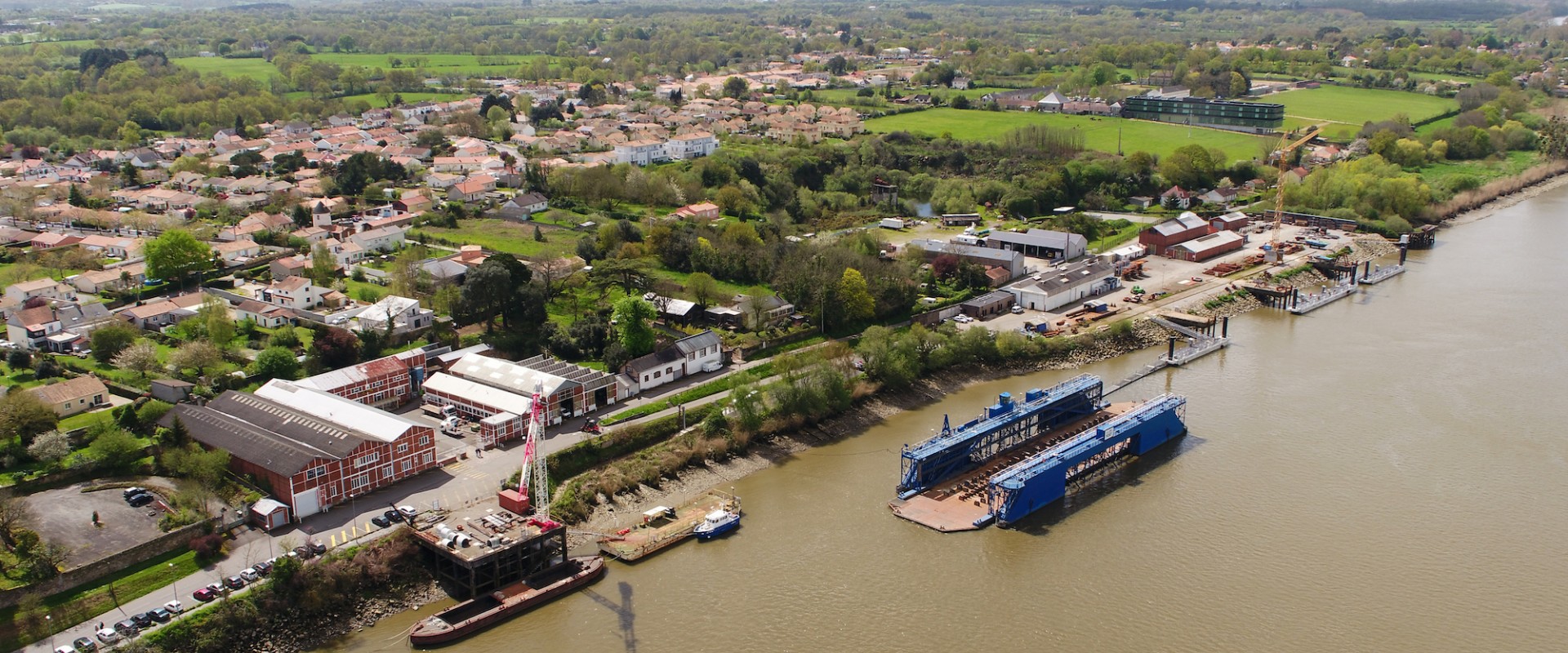 Le Pellerin
The Upkeep of Port Equipment
Located alongside the River Loire, the Les Coteaux Workshop at Le Pellerin is both a production workshop and a maintenance workshop. With its team of 60 employees, it is able to handle large-scale work projects, whether in the area of ship repair or involving the maintenance of handling equipment.
A Multi-Specialist Team
The Le Pellerin facility is particularly well placed to take care of major work assignments and maintenance turnaround work on vessels, which can be accommodated either while afloat or by a floating dry dock.
Possessing a 5 000 m² building and a mooring quay that was upgraded in 2016, the Les Coteaux Workshop handles the repair work on dredgers, the Loire ferries, service boats, and so on, and the maintenance work on handling machinery and items of port equipment including cranes, pumps, gantry cranes, and locks.
The team's skills are multiple and transversal: mechanical engineering, machining, sheet-metal working, electrical and automation engineering, worksite logistics and carpentry services... With its integrated design office, the Les Coteaux Workshop proposes its specialist expertise in support of the work assignments undertaken by other Port Authority teams, and also tenders for work contracts proposed by external customers.
Lifting equipment : two tower cranes, a crane barge with a lifting capacity of 90 tonnes at 10 metres
Floating dock : capacity of 1 700 tonnes, 92 metres long, 16 metres wide
Machining and onboard mechanical engineering shop : 21 employees
Sheet-metal working and welding shop : 23 employees 
Carpentry shop : 7 employees
Electrical engineering shop : 4 employees
A History Going back over a Hundred Years
In the beginning, there was the Canal de la Martinière Canal… This canal running parallel to the River Loire was used from 1892 up until the mid-20th Century. It was in order to store the equipment required during the digging of the canal that Mr Couvreux, a contractor, set up the first workshops at Le Pellerin in 1883. With the construction work coming to an end, it was decided 10 years later that the maintenance work on the canal machinery and dredging equipment would be carried out there. The Les Coteaux Workshop employed as many as a hundred members of personnel in the 1950s.