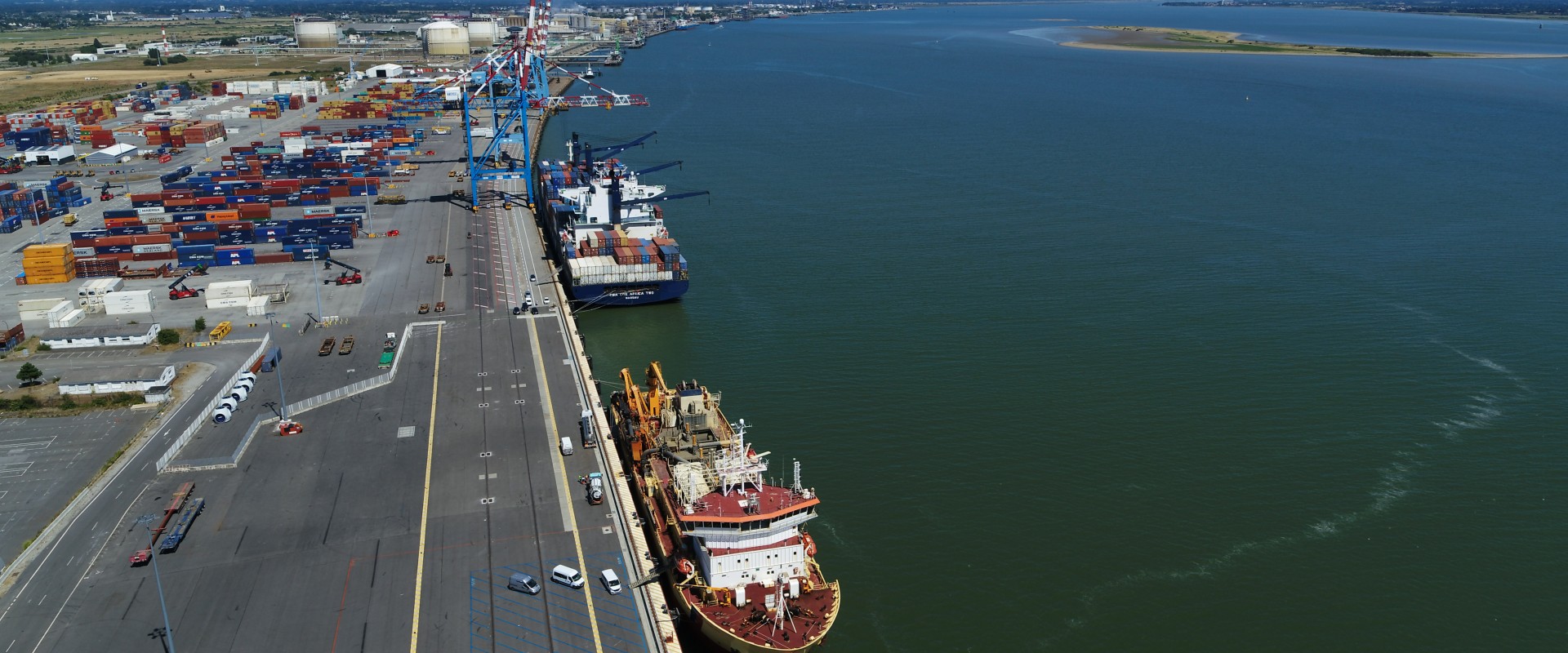 Montoir de Bretagne
A Stronghold for Industrial and Port-Related Activities
With its different terminals (for ro-ro, containers, bulk cargo and energy), its concentration of industrial firms, service providers and logistics specialists, Montoir de Bretagne is one of the most important facilities at the Port of Nantes ‒ Saint Nazaire. Thanks to its reserves of real estate, its multimodal infrastructures (road, rail and inland waterway) and its maritime services, Montoir de Bretagne possesses plenty of development potential as well.
A Major Player for Liquefied Natural Gas
With the expanded role of LNG (liquified natural gas) in the worldwide energy mix, Montoir de Bretagne's liquefied natural gas terminal Elengy has a significant part to play in energy transition. Its storage capacity, the option of transhipping consignments between two LNG carriers, and the standard of operational safety guaranteed by the ISRS7 qualification make this facility one of the most efficient in Europe.
Bulk Cargo Activities Supported by the Construction and Animal Feed Sectors
Thanks to its multi-bulk terminal, Nantes ‒ Saint Nazaire is the leading port on France's Atlantic Seaboard for the importation of vegetable proteins used in the manufacture of cattle feed. In this way, the Port takes advantage of its prime position at the heart of Greater Western France, the biggest livestock breeding region in France. Materials for the building and civil engineering sector also represent significant cargo volumes departing from or arriving at Montoir. With its four berths (and an additional State-owned liquid cargo berth), the port facility attracts some major industrial business locations (Cargill for seed crushing, Yara for fertilizers, Eqiom for cement, Invivo for grain and cereals…). The facility's deep-water berths are able to receive numerous types of vessels, from coasters to Panamax vessels.
An Ultra-Versatile Ro-Ro Terminal with International Connections
New vehicles, trailers, aircraft sections, HGVs, but also on occasion items such as mobile homes or car carrier wagons… a broad range of types of cargo transits the Montoir de Bretagne ro-ro terminal, evidence of the great versatility of the facility. The ro-ro terminal extends over an area of 40 hectares, including 9.5 hectares of land reserved for its future development. The improvements made to its two floating pontoons mean that they are able to receive vessels of the stern ramp, side ramp or stern three-quarter ramp type.
Shipping line Suardiaz provides a complete Atlantic service, from Tangiers in the south to Zeebrugge in the north, with one weekly call at Montoir de Bretagne. Thanks to LD Seaplane, Montoir has regular connections to the Mediterranean, the North Sea and the USA. Several weekly links are operated on behalf of the Airbus Group, but can also accommodate additional cargo consignments.
This port facility is a base for the European leaders for automotive and aeronautical logistics (CAT, GEFCO, GCA, IDEA) and offers its services to industrial firms of international standing in the aeronautical sector (Airbus, Stélia, Spirit Aerosystems) and in the automotive industry (Renault, Peugeot, Citroën and Dacia).
Containers: The World on Call
Liner shipping services, some operating directly, others via feeder links to the major hubs in Europe and Africa, connect the general cargo and container terminal operated by TGO (Terminal du Grand Ouest) to the entire world. The two direct services are the North Europe ‒ French West Indies (NEFWI) and Europe ‒ Africa (EURAF 1) services, which are operated by CMA CGM. Links to the major transhipment hubs in Northern Europe (Le Havre, Antwerp, Rotterdam) or to Mediterranean hubs (Tangiers, Algeciras) are provided by the world's leading container shipping lines (not only CMA CGM, but also Maersk via BG Freight and MSC).
The 350-metre-long quay extension at the Montoir de Bretagne general cargo and container terminal now makes it possible to receive container ships with a capacity of up to 8 000 TEUs (twenty-foot equivalent units). The quay has been both lengthened and reinforced to a bearing capacity of 15 tonnes per m² compared to the usual 6 tonnes per m². This facility can also handle heavy-lift cargo consignments, in particular the wind turbine nacelles produced by the nearby General Electric factory.
Turnkey storage solutions
In a context of scarcity of available land, storage needs are becoming a major issue for economic development. Numerous industrial activities require short-term capacities close to the production sites. Nantes Saint-Nazaire Port proposes turnkey solutions in the Montoir zone. A 40 hectare land reserve has been set up for the construction of warehouses on a plug-and-play basis: any industrial company wishing to do so can, in a few weeks, have a storage solution adapted to its needs.
Sectors of activity :
Ro-ro
Containers
Energy-related bulk cargo (liquefied natural gas, coal)
Bulk agri-foodstuffs
Bulk cargo for the construction and recycling sectors
Agri-food industry
Aeronautical engineering