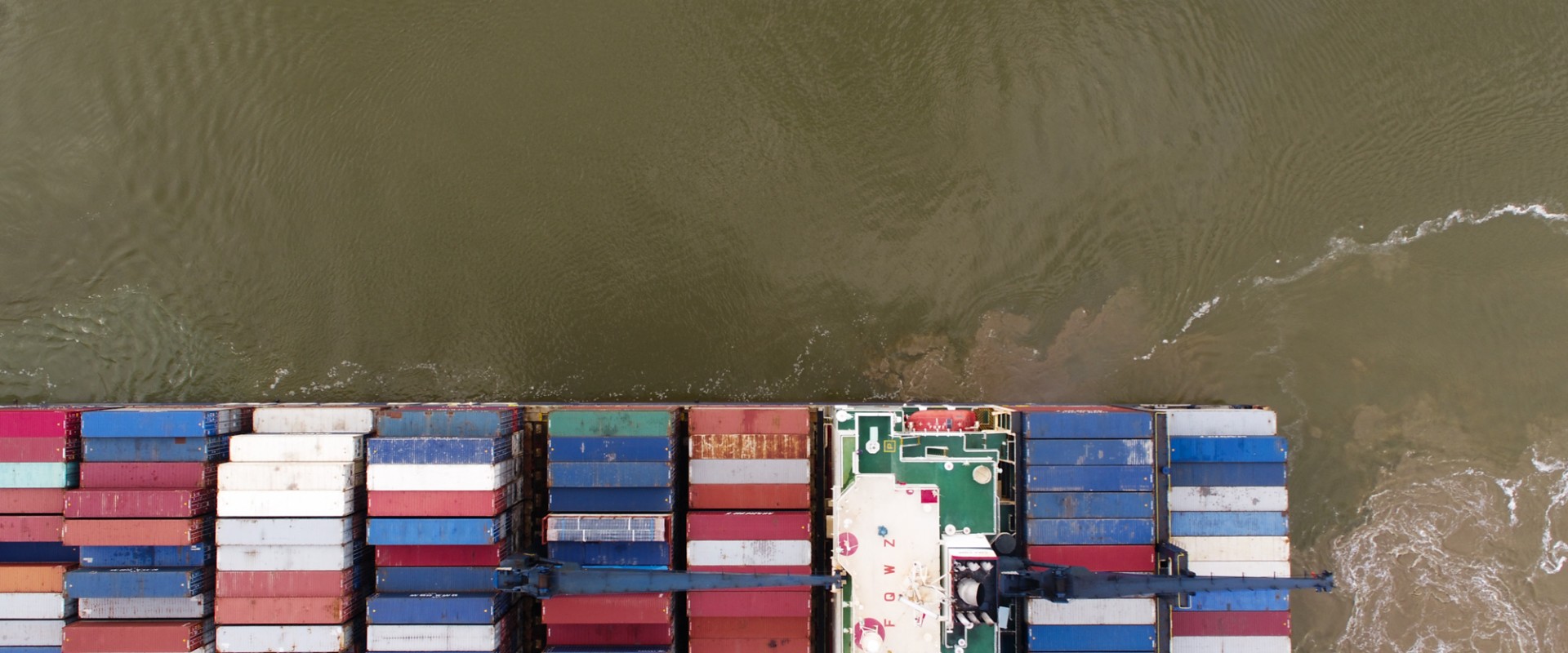 Containers
Through its container terminal operated by Terminal du Grand Ouest (TGO), the Port of Nantes ‒ Saint Nazaire proposes a global container shipping service offer in collaboration with the world's leading container shipping lines : MSC, CMA CGM and Maersk (via BG Freight).
The recent improvements made to the terminal mean that its users have a highly effective tool at their disposal. Upgraded, the facility offers extended reception capacity, shorter waiting times and a diverse range of maritime services, all with worldwide connections.
The World on Call
As the gateway to France's Atlantic Seaboard, Nantes ‒ Saint Nazaire Port is ideally placed to handle the importation or exportation of your containerized freight. Liner shipping services, some operating directly, others via feeder links to the major hubs in Europe and Africa, connect the general cargo and container terminal operated by TGO (Terminal du Grand Ouest) to the entire world. The two direct services are the North Europe ‒ French West Indies (NEFWI) and Europe ‒ Africa (EURAF 1) services, which are operated by CMA-CGM. Links to the major transhipment hubs in Northern Europe (Le Havre, Antwerp, Rotterdam) or to Mediterranean hubs (Tangiers, Algeciras) are provided by the world's leading container shipping lines (not only CMA-CGM, but also Maersk via BG Freight and MSC).
Logistical Services, and a One-Stop Facility for Regulatory Requirements
When it comes to the pre- and post-carriage of your goods, the general cargo and container terminal proposes a number of high-quality services including warehousing, logistics, information technology services, customs and other regulatory services. There have been significant developments in recent years with a view to improving logistics performance, including notably the provision of a one-stop facility for regulatory requirements within the perimeter of the TGO terminal, which now brings together under one roof, right at the heart of the terminal, all the regulatory and phytosanitary services (customs, veterinary and phytosanitary inspection, competition policy, consumer affairs, fraud control, population protection), thereby delivering simplified administrative processes and shorter waiting times.
Digital Solutions to Limit Waiting Times
 
Terminal Grand Ouest (TGO), the operator of the Montoir de Bretagne general cargo and container terminal, keeps shippers advised on a real-time basis via Easy Gate. This software provides information not only about the customs clearance status of goods, but also on the traffic flow conditions close to the terminal. Each shipper is thereby able to manage individual physical flows of goods so as to limit waiting times. With approximately 800 HGVs a day, the reception capacity at the terminal is not fully taken up and therefore offers significant development potential.
Plant and Equipment Serving Shippers
TGO has two watchtowers, which are used by carriers or by port personnel to check that the containers transiting the terminal are in good exterior condition. The users of the terminal can also access a VGM (verified gross mass) weighbridge scale. This tool guarantees the precise total weight of the cargo before loading.
A fast and efficient terminal
A single operator, equipped with the "Easy Gate" system
Over 30 movements an hour
4 berths, 3 gantry cranes and 2 mobile cranes
600-metre length of quay
A quay with a bearing capacity of 6 to 15 tonnes per m² for the heaviest loads
Comprehensive logistical solutions to meet your requirements
20 000 m² of dry and refrigerated warehousing
350 reefer plug-in points
Made-to-measure logistics services
A one-stop facility for regulatory requirements, meeting the latest European Union standards and facilitating all customs, regulatory and phytosanitary checks
Need more information?
Contact our Container Business Unit Manager, Cédric Eon