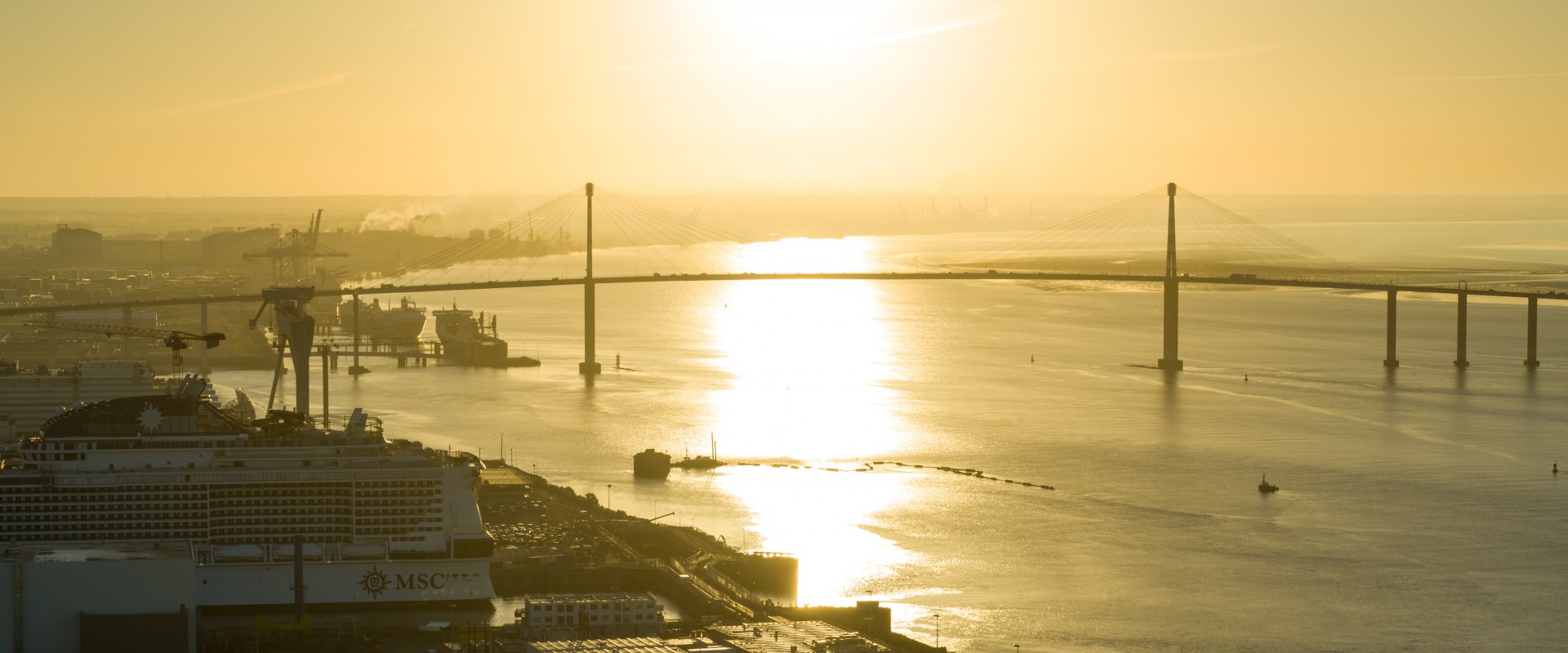 Partners
A Supportive and Efficient Ecosystem
Going beyond its governance bodies and the agencies of Central Government to which it answers, Nantes ‒ Saint Nazaire Port nurtures an ongoing dialogue regarding strategical and operational issues with all its institutional partners, and first and foremost with Regional and Local Government. Together, they strive to achieve economic and environmental advancement for the Loire Estuary.
Nantes ‒ Saint Nazaire Port forms an integral part of a whole comprising numerous industrial, logistical and service sectors. The activities at the Port of Nantes ‒ Saint Nazaire generate 25 300 jobs in Greater Western France (source: 2020 study by INSEE, the French National Institute of Economic and Statistical Information, based on 2015 data). It therefore constitutes a powerful driving force in terms of the sustainable development challenges facing the Regional Community.
In Direct Contact with the Real Economy
The activities of Nantes ‒ Saint Nazaire Port, from the mouth of the River Loire to the quays in Nantes, are the faithful reflection of the economic activities of the Region itself. The strength of one industrial sector and the technological transformation of another, the supply flows to the Nantes Metropolitan Area and beyond Greater Western France, the export markets — in Europe or to the other continents — of the major sectors of production: all of that is clearly seen in the Port's activities.
In this way, Nantes ‒ Saint Nazaire Port is in daily contact with all the stakeholders in the economy, whether they be consular bodies, professional and trade union organizations, the customers and shippers in the different sectors of activity or their logistical service providers, who use the Port's maritime links to ship or to receive goods.
A Hub for Logistical Services
Ship's piloting, tugboat operations, inshore piloting and all the vessel-related services, and also the expert work undertaken upstream by each of the players in the transport chain — shipowners and logistical service providers, rail, road or inland waterway transport specialists — together form a hub of port-related services of proven quality.
 
A collective to promote the assets of the port area 
Nantes ‒ Saint Nazaire Port has joined forces with other Nantes ‒ Saint Nazaire stakeholders to create a port promotion brand: "Be My Port, Nantes Donges Montoir Saint Nazaire". This collective*, which is led by the Atlantic Supply Chain and Procurement Organization (PASCA), highlights the attractiveness of the entire area and of the port community of Nantes − Saint Nazaire. The ambition is threefold: to enhance the visibility of the Port of Nantes − Saint Nazaire, to develop new traffic areas around Nantes − Saint Nazaire's priority sectors of activity (industry, agri-food, logistics…), and to promote the port community's services among companies in Greater Western France.
* comprising Nantes − Saint Nazaire Port, Nantes Ports Maritime Union (UMNP), the Nantes − Saint Nazaire Chamber of Commerce and Industry, Pays de la Loire Regional Authority, Saint Nazaire Urban Area District Authority, Nantes Metropolitan District Council and Loire Atlantique Departmental Authority