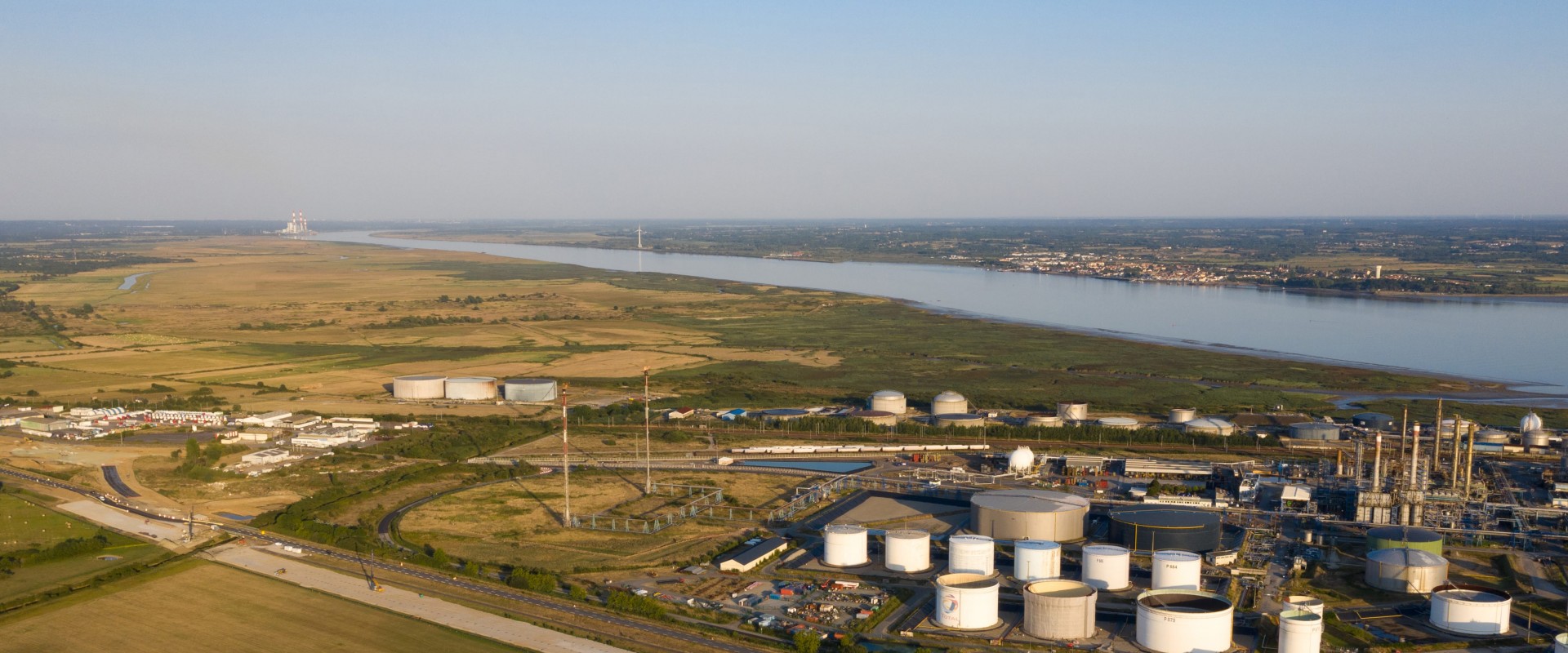 Energy Sources of Today… Oriented towards Tomorrow
Natural Gas: a Benchmark Facility in Europe
Nantes ‒ Saint Nazaire Port is accompanying the expansion of LNG in the worldwide energy mix. In this way, Montoir de Bretagne's liquefied natural gas terminal Elengy is ranked among the most efficient in Europe. Its capacity is set to grow, in line with the dynamism of the worldwide market for LNG and with the positioning of Montoir de Bretagne as the gateway to North-Western Europe.
This facility notably provides transhipment services that make it possible to transfer cargo directly from one LNG carrier to another: complex operations that are carried out in 48 hours and in complete safety.
Elengy liquefied natural gas terminal :
services: reloading, transhipment, fuelling and loading of HGVs
able to receive LNG carriers transporting 65 000 to 267 000 m³ (Q-Max)
Long-Term Investments at Donges
Donges is the location of the Total Group's second largest refinery in France. To improve the competitiveness of this facility and to secure the long-term future of the Donges site, in 2015 the Group launched the Horizon project, which is accompanied by an investment of 450 million euros. Total plans to build a desulphurization unit and, as a necessary accompaniment to that installation, a hydrogen production unit, in order to provide new openings and to enable the production of fuels with a lower sulphur content, in line with the changes in European Union specifications.
Donges oil tanker terminal
crude oil processing capacity of the Total refinery
2nd
largest refinery in France belonging to the Total Group
Cordemais: a Strategic Facility Undergoing Redevelopment
The thermal power station at Cordemais is one of EDF's biggest electricity production facilities in France. With the national strategy for energy and climate change having determined that the production of electricity by coal-fired power stations is to cease by 2022, this high-capacity production unit has nevertheless been granted special dispensation to operate until 2026. This measure is intended to secure the supply of electrical power to Greater Western France in general, and to Brittany in particular.
The imported coal is received at the Montoir de Bretagne coal terminal, and then onforwarded by barge to Cordemais. Nantes ‒ Saint Nazaire Port personnel maintain the infrastructures, plant and equipment at the highest level of operation so as to guarantee on a continuous basis a sufficient supply of coal to the thermal power station.
Trials are also being carried out at the Cordemais facility as part of a project to turn the site into a plant manufacturing an innovative fuel produced from waste timber products.
Montoir de Bretagne coal terminal
1 operator : OTCM
1 unloading berth
1 reloading berth for the onforwarding of consignments by inland waterway to the EDF electricity production facility at Cordemais (1 000 tonnes an hour)
 
Do you want to obtain information about the energy sector?
Contact Ludovic Bocquier, Energy Sector Business Unit Manager