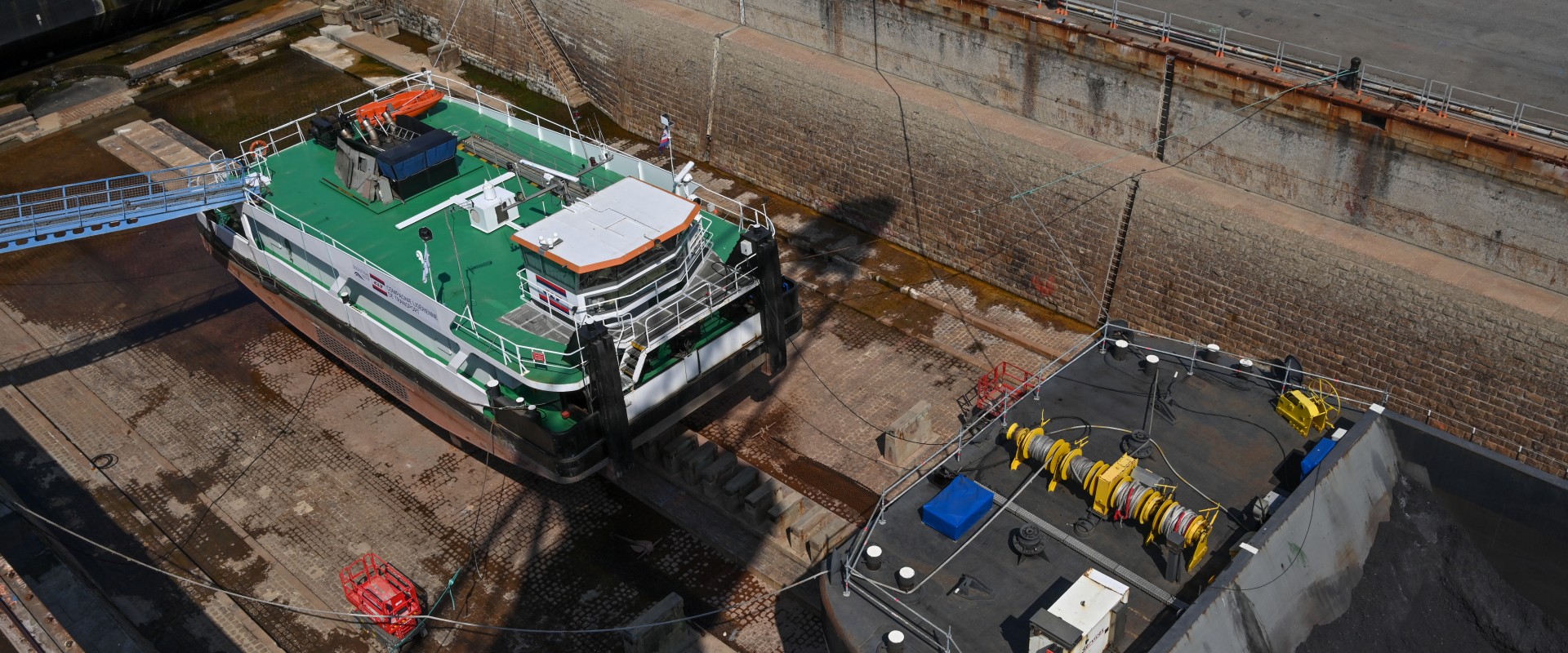 A Future Major Base for Ship Repairs
Nantes ‒ Saint Nazaire Port is continuing to expand its ship repair and maintenance offer in terms of plant and equipment, services, and price conditions. The Saint Nazaire dock basins possess the high-quality infrastructures and know-how to establish a position in the highly competitive market of ship repair and maintenance.
Complementary to the Joubert sluice dock, which is used to receive the largest vessels or to handle unusual operations such as the assembly of wind turbines, the three dry docks are suited to numerous types of vessels, including tugboats, Loire Pilots launches, or the pusher craft and barges operated by CFT…
Key to Port Service Reliability
This summer, the dredger Samuel de Champlain notably underwent her annual maintenance turnaround in dry dock N° 1. This operation mobilized all the workshops of the Maintenance Technical Services Department, as well as the Scaffolding Unit and the Port Operations Department. "The dry docks are essential when it comes to meeting local maintenance and repair requirements," emphasizes Laurent Connil, the Manager of the Saint Nazaire Business Unit at Nantes ‒ Saint Nazaire Port. "The ship maintenance and repair service provision constitutes one of the keys to ensuring port service reliability for the reception of cargo vessels."
Since 2015, Nantes ‒ Saint Nazaire Port has structured its offer, with the ambition of becoming a major base for ship repairs on France's Atlantic Seaboard. In the space of six years, the occupancy rate at the dry docks has increased by 14 %, rising from 34 % to 48 %. And with the arrival of the vessels involved in the construction and maintenance of the Saint Nazaire offshore wind farm, the potential is growing.
A Stronger Service Offer
Nantes ‒ Saint Nazaire Port is adding to the resources at its disposal so as to convince users of the relevancy of its offer. Customers now have one point of contact. The plant and equipment are being upgraded (purchase of a new crane, modernization of the networks, and installation of living accommodation), and the prices have been revised in order to accurately reflect market realities.
"We want to go beyond the image of a port that specializes solely in shipbuilding," continues Laurent Connil. "Our own teams or Port Community firms such as Clemessy Services for example possess a complete skill set for a successful maintenance turnaround: mechanical engineering, painting, propulsion, pipework… In addition, we have significantly improved the quality of the services proposed, notably as regards keel blocking, a sector in which we now set the benchmark." An offer that Nantes ‒ Saint Nazaire Port was there to present at the Euromaritime Trade Show in Marseille, at the end of June.