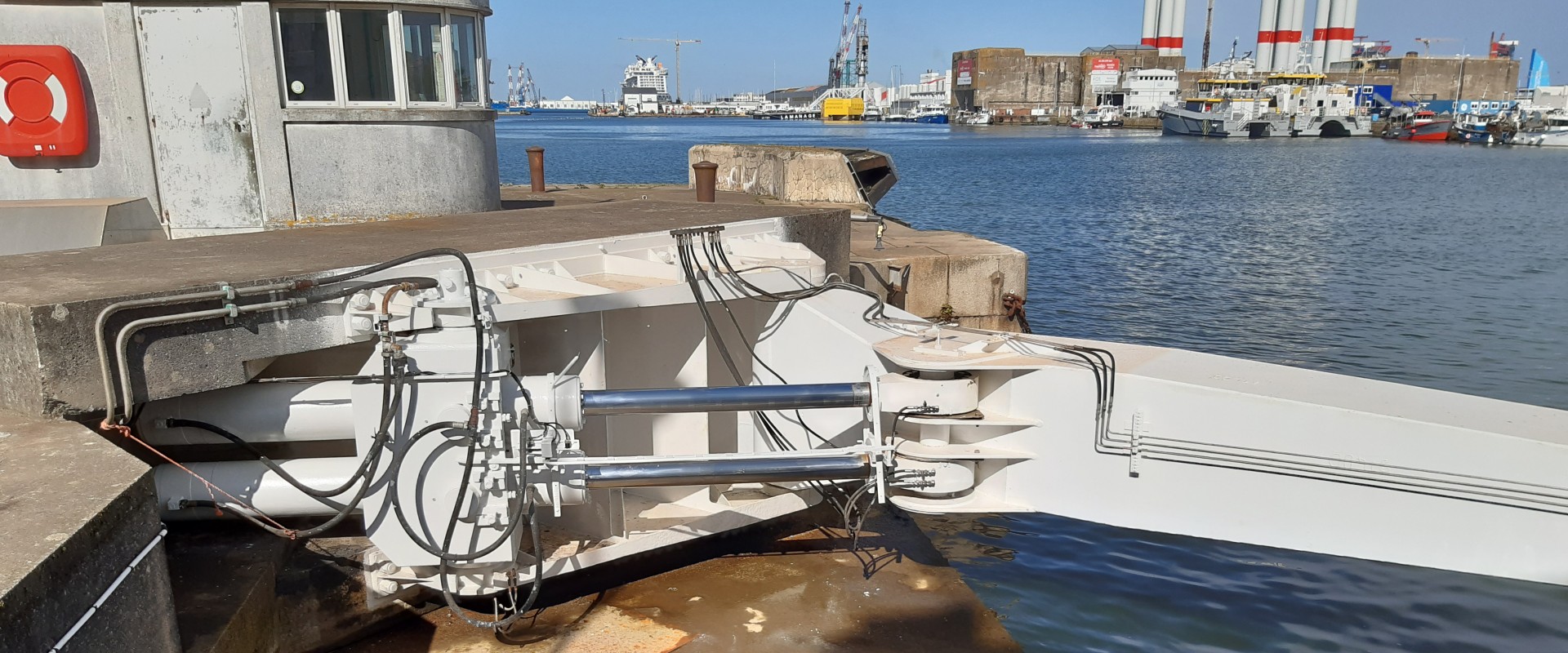 Update on the Work Projects in Progress
Work projects are in progess on the quays. Here is a review of what is happening, from Montoir de Bretagne to Saint Nazaire.
At Montoir de Bretagne
Work has just finished on building two 3 000 m² metal-and-textile warehouses to handle industrial activities on behalf of General Electric (GE). Furthermore, works contracts are being placed for the building to be used by TGO, the operator of the Montoir de Bretagne container terminal. The presence of warehousing that is located in proximity to the quays serves notably to reduce journey times, transport costs, and the carbon footprint of activities.
In practical terms, the buildings are constructed on the "plug and play" model, so that the customer can take possession of the premises that much sooner. In order to reduce leadtimes, the ground has been preloaded and the administrative processes have been commenced.
At Donges
The work on repairing oil tanker berths N°s 1 and 2 is drawing to a close. The operations on the girders and the posts finished at the end of 2021. The finishing work on the slabs of the landing stage of the TotalEnergies refinery will be completed at the end of the first quarter of 2022.
In Saint Nazaire
The electrification of the Quai des Darses and Quai des Charbonniers quays is in progress, with the plan being to generate enough power to offer raised quayside power points to supply cranes and vessels.
At the location of the south lock, the downstream gate recesses have been dredged and cleared so as to obtain an adequate permissible draught to receive vessels in the dock basin. The leaf of the upstream gate of the south-west lock has also seen an intervention by Nantes ‒ Saint Nazaire Port's teams, involving the refurbishment of the hinge arm (pins, metal fabrication, paintwork…) and a deployment in manual mode so as not to interrupt the operation of the lock gate, in close collaboration with the harbour master's office.
The teams are currently carrying out a series of work operations on the downstream gate of the Joubert sluice dock, including the replacement of a centring mechanism and other preventive maintenance operations (hydraulics, mechanical engineering…). At the base of the dock, a washing system has been installed so as to facilitate the work of the cleaning teams. On the platform, civil engineering and metal fabrication work is being carried out to protect the culverts.