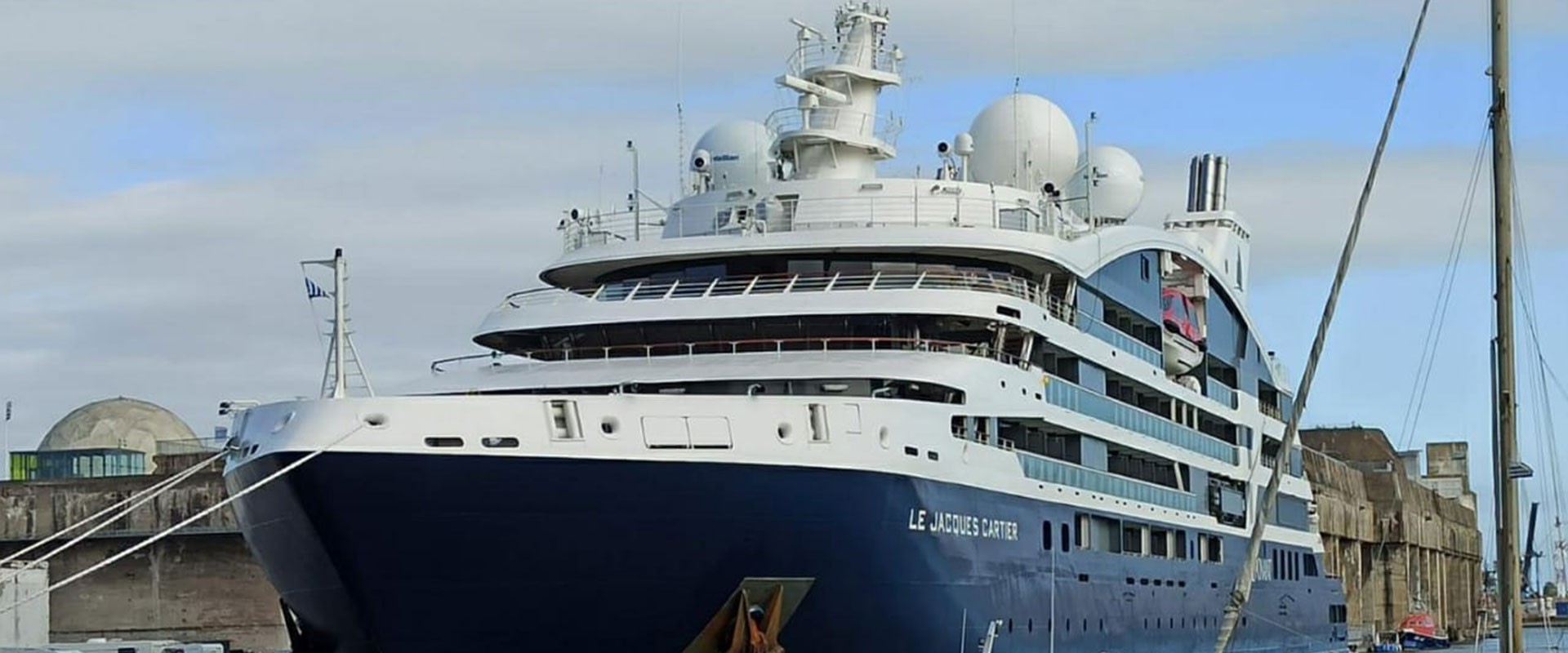 The PONANT Cruise Ship Le Jacques Cartier Calls at Saint Nazaire
On 27th September, the vessel Le Jacques Cartier of the French cruise line PONANT made her first ever call at the Quai du Commerce facility in Saint Nazaire, where a large number of Saint Nazaire residents were able to admire this brand new cruise liner. The vessel was finishing her "Pearls of the Atlantic" cruise, which began in Saint Malo on 19th September.
Delivered this year by the Vard Shipyard, the Le Jacques Cartier is the latest vessel in the PONANT Explorers series. Equipped with 92 cabins and suites, able to accommodate up to 184 passengers and possessing a 112-strong crew, the vessel measures 131 metres in length and 18 metres in breadth. Her draught of 4.70 metres enables her easily to access numerous destinations.
The "Pearls of the Atlantic" itinerary is one of the innovative new cruises proposed since 11th July by PONANT, which has had to adapt its offer so as to be able to resume operations following the worldwide interruption of cruise shipping activities. As of July, Ponant put in place all the requisite measures on a technological, human and material level to deliver an airtight "anti-Covid" bio-bubble, thanks to the deployment of three levels of barriers: strictly controlled conditions of access to its vessels, stringent health protocols on board ship, and daily monitoring and inspection.
The vessel's complement of just under 80 passengers, the majority of whom were French, completed their cruise along the Atlantic Seaboard, which took them from island to island, between Saint Malo and Saint Nazaire. They were welcomed quayside by the Saint Nazaire Tourism team.
Numerous port professionals contributed to the success of this call, notably ship's agents De Humann & Taconet, the Pilotes de la Loire pilot service, the Harbour Master's Office and several departments of Nantes ‒ Saint Nazaire Port.
 
Contacts at Nantes Saint-Nazaire Cruise Club – James Le Cocq & Laurence Paitel