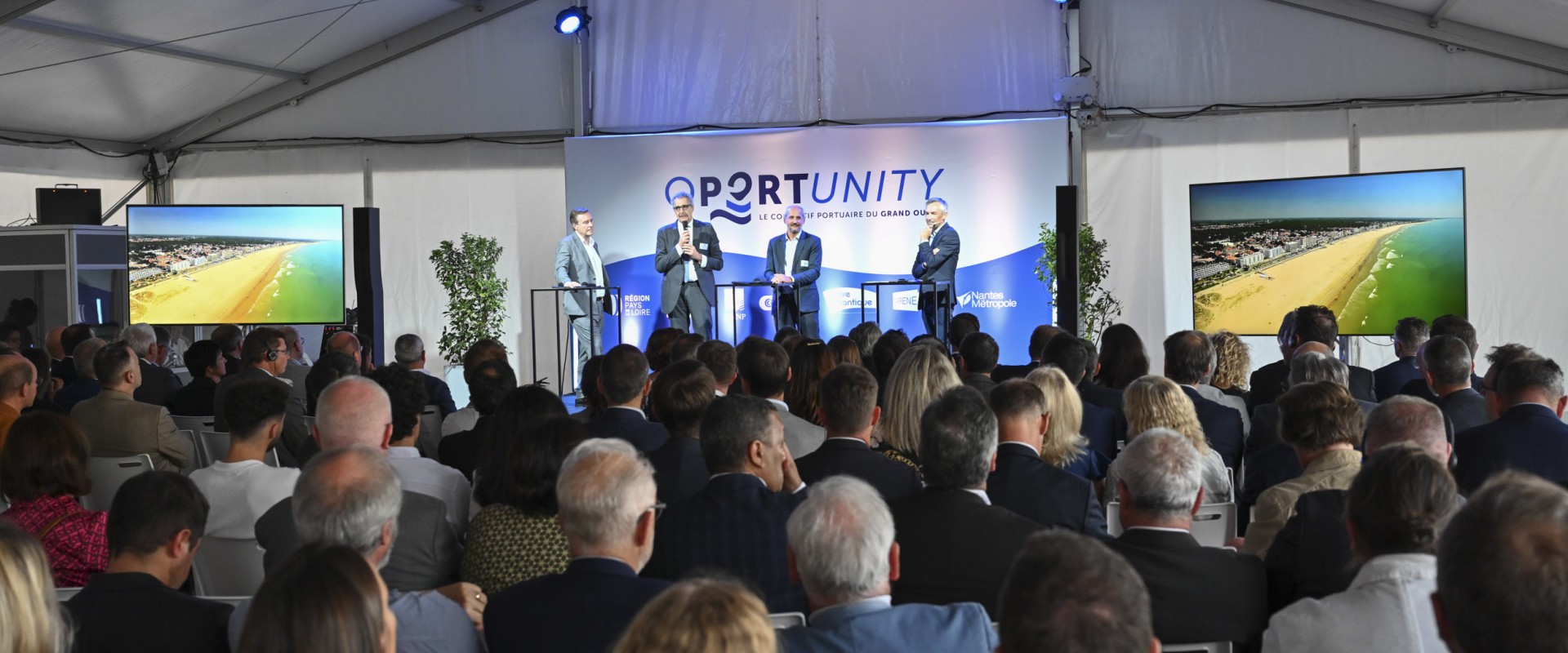 Oportunity: An Evening Marked by Celebrations
On Monday, 9th October, the port promotion collective held an evening event to open the new season. 220 people, public- and private-sector stakeholders from the port and maritime world and from the Regional Community, assembled at Quai du Commerce in Saint Nazaire to mark the first year of existence of the Oportunity initiative. This was the occasion also to celebrate the 50th anniversary of the creation of the Montoir‒Vigo shipping service!
Promoting the Port and the Region, overseas in Singapore just as in the Department of Mayenne, to develop new flows of cargo and new industrial and tertiary activities for the future, to the benefit of all. That is the ambition of Oportunity, Greater Western France's port promotion collective, which is just celebrating its first birthday.
This event also offered the chance to demonstrate the proactive approach of the port promotion collective, with the presentation of the actions undertaken during its first year, notably centring around the roadshows held in the Departments of the Pays de la Loire Region and the trade shows in which Oportunity took part (such as SITL, Shipping Days, Breakbulk, Seanergy or International Week…)
A major theme of the evening, modal shift and the choice of sea rather than road for the importing or exporting of goods across Europe brought together several players in the industrial and transport sectors on the Loire Estuary, including Scania, Manitou, and Bréger.
The evening was also the perfect occasion to unveil to all the stakeholders present and in front of the media the choice of the Saint Nazaire port facility as the future logistics base for the construction of the Îles d'Yeu and Noirmoutier offshore wind farm (EMYN).
The Montoir‒Vigo Service in the Spotlight
 
2023 marks the fiftieth anniversary of the ro-ro service between Montoir de Bretagne and Vigo. A Spanish delegation was in attendance especially to celebrate what is Nantes ‒ Saint Nazaire Port's oldest shipping service, which was originally created to support the development of flows of component parts between the Citroën (Stellantis) plants in Rennes, in Brittany, and Vigo, in Spain.
Here's a look back in pictures.