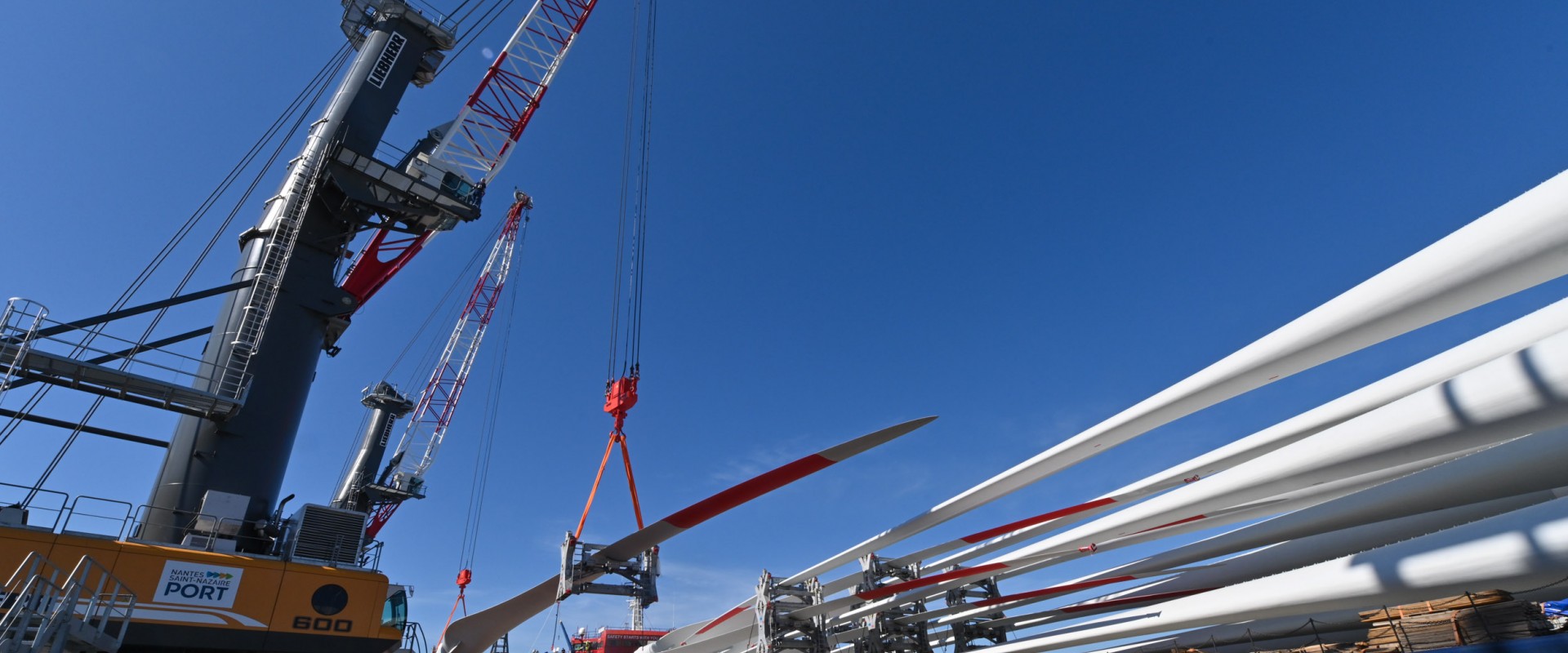 New Stages for the Construction of the Offshore Wind Farm
Operations to unload blades and to transfer nacelles have followed one another in the Saint Nazaire dock basins in June. The logistical efforts are in full swing for the construction of the Banc de Guérande wind farm.
31st May saw the start of the very spectacular operation to unload the first 18 wind turbine blades from the vessel Vestvind, which had arrived at the Quai de la Prise d'Eau quay from Castellón, in Spain. The cargo handling was carried out using Nantes ‒ Saint Nazaire Port's two mobile cranes acting in tandem. Made of fibreglass, resin and balsa, and measuring 75 metres in length and 3 metres in diameter, each blade with its transport frame individually represents a load weighing 39 tonnes. The blades were then transferred on trailers to the pre-assembly facility close to the Joubert sluice dock. These manœuvres were conducted by Atlantique Manutention, Sogebras and Scales SAS. In total, 240 blades will arrive in Saint Nazaire as the manufacturing operations proceed.
On 7th June, the first 13 nacelles, imposing cargo consignments each weighing 400 tonnes, were conveyed by sea from General Electric's Montoir de Bretagne factory, where they are manufactured, to the Quai de la Prise d'Eau quay in Saint Nazaire, aboard the breakbulk vessel Paleisgracht operated by the Spliethoff Shipping Line.
The Next Stages
The jacket, which forms the foundation of the electrical substation and has been manufactured in Italy, left Ravenna in mid-June and will arrive at the Joubert sluice dock in Saint Nazaire early in July. The substation, which is being manufactured by the Chantiers de l'Atlantique Shipyard, is now almost complete and it will be delivered in the coming weeks.
Contact at Nantes Saint-Nazaire Port – Ludovic Bocquier