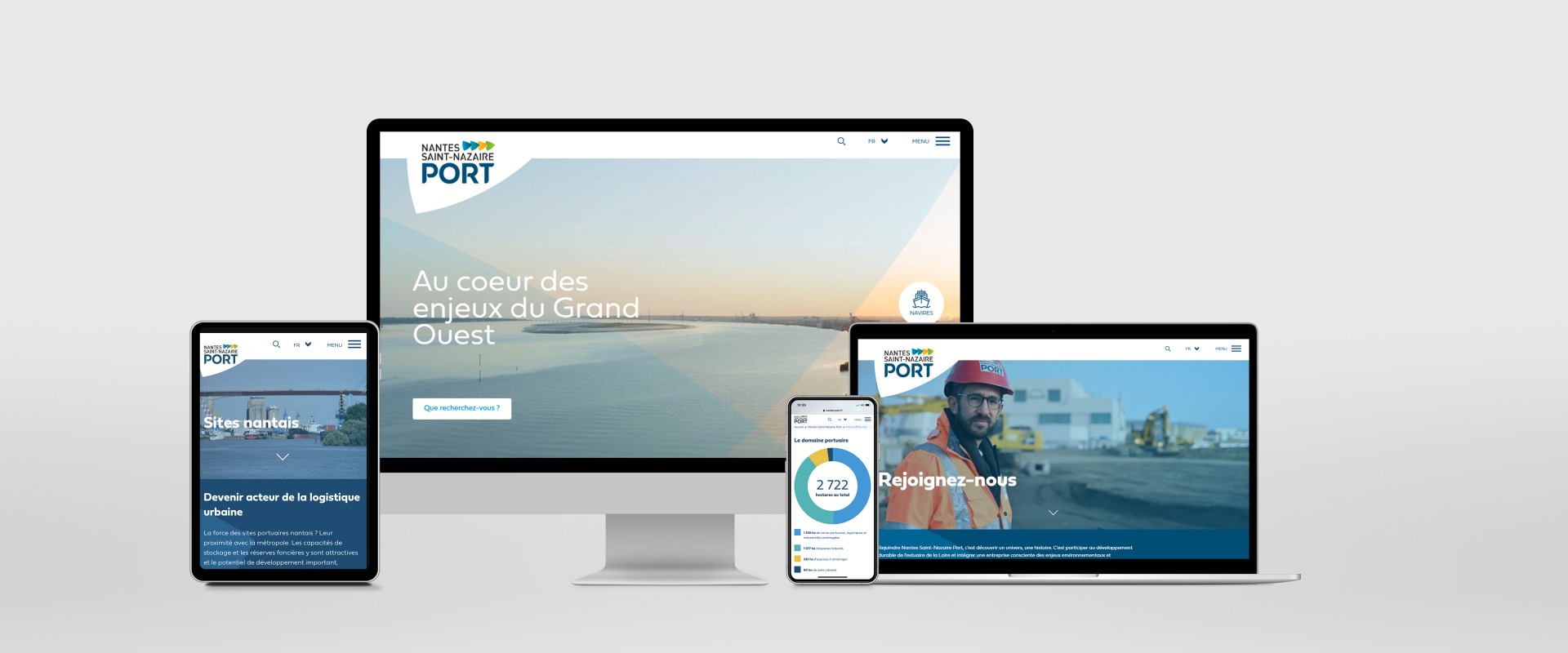 A New Design For Nantes ‒ Saint Nazaire Port's Website
A modern, clean design, simplified browsing, a new architecture... Produced in collaboration with the Nantes-based communication agency VUPAR, Nantes ‒ Saint Nazaire Port's all-new website ‒ www.nantes.port.fr ‒ offers a completely fresh user experience. It reflects the Port Authority's ongoing commitment to serving the Greater Western France Region.
With a responsive design, suited to all screen types, Nantes ‒ Saint Nazaire Port's new website proposes enhanced browsing comfort. The emphasis is given to immersive, large-format visuals that immediately plunge the user into the maritime and port environment.
At one and the same a business-focussed port and a community-oriented port with strong local roots, Nantes ‒ Saint Nazaire Port has sought to propose content that is in part aimed at potential users of port services and infrastructures, but also ease of access for all web surfers looking for information about port-related activities.
In order to make the offer for professionals more visible, the website's "The Port for Professionals" section has been totally redesigned and its content reworked. This section presents the range of port-based logistical solutions for the handling of cargo consignments, for everything from containers to bulk cargo, and including ro-ro or breakbulk requirements, the port-based service provisions proposed by Nantes ‒ Saint Nazaire Port, whether for maintenance operations or for the deployment of infrastructures or lifting equipment… As the owner of 2 700 hectares of Port Authority land, Nantes ‒ Saint Nazaire Port also makes available a complete real-estate offer, which is showcased on the new website using interactive mapping.
New Content Aimed at the General Public
The website makeover has offered the opportunity to improve and to develop new functionalities, notably for the general public. The "Real Time" section enables ship enthusiasts to check ahead of time the dates on which vessels are due to call at the Port or to have an instantaneous view of the vessels alongside quay thanks to the detailed mapping function. Information can also be obtained on the website regarding current road traffic conditions, and notably the status of the movable structures in Saint Nazaire. The "Tides" webpage now has a new, more practical interface. Accessible to all, the photo library makes it possible to download a selection of the latest photo reports about the various port facilities.
The innovations include the creation of an "Our Commitments" section, in which Nantes ‒ Saint Nazaire Port presents its actions in favour of the environment, its Smart Port and quality initiatives, and also its employer brand. In its "Join Us" section, the website also incorporates a new, practical interface focussing on employment.