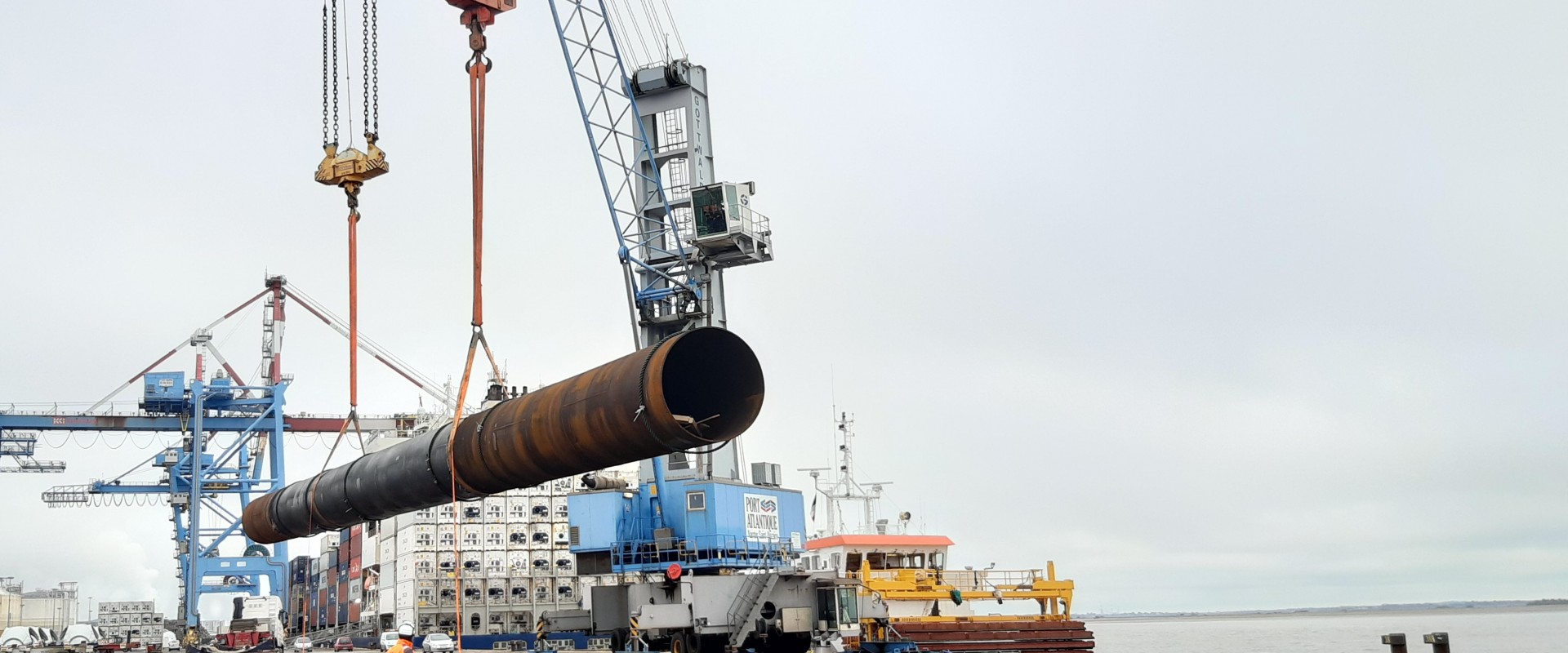 Montoir Liquid Cargo Extends Its Capacity
In the spring, new installations will come into being at Montoir de Bretagne. Nantes ‒ Saint Nazaire Port's teams are currently working to create two new liquid cargo berths so as to increase the reception capability of the current facility.
The tubes destined to form the berthing and mooring structures (dolphins), together with the foundations of the two new landing stages and of the inshore pilots' gangways, were delivered to Montoir de Bretagne in February, from Shanghai. The first tubes will be put into the water at the nearby general cargo and container terminal, then brought on site by pontoon or floated into place in the case of the largest among them. As of 21st March, they will then be deployed using the nautical resources of Nantes ‒ Saint Nazaire Port and Vinci Maritime and Inland Waterway Construction (VCMF).
In Figures
Of the 8 dolphins that will form Montoir Liquid Cargo's new berthing facility covering a total length of 250 metres, the heaviest tube weighs 62 tonnes and measures over 35 metres in length. The biggest tubes have a circumference of 1.8 metres. Once they have been deployed by pile-driving or drilling into the rock, the dolphins will be fitted with their fenders and their triple or quadruple mooring hooks. The heaviest will be able to handle up to 120 tonnes per metre in berthing energy.
Nautical Work
These operations, the pile-driving of the tubes notably, concern the construction of the new berthing facility (deployment and fitting out of the berthing and mooring dolphins, and of the inshore pilots' gangways). The work project is conducted by alternating one week on (from 6 a.m. on Monday to 10 p.m. on Friday) and one week off (from the Friday night or from the following Monday morning), so as to permit the ongoing commercial operation of the liquid cargo berth.
And Then…
Once the nautical work has been completed, the construction work on the two landing stages will depart from the riverbank outward into the Loire employing land-based resources only, so as not to interfere with the operation of the liquid cargo berth. When the two new landing stages have been built, the work project will continue with the creation of the networks infrastructure.
Following this work project, the structure will be able to receive vessels measuring more than 200 metres in length and with a displacement of up to 60 000 tonnes, and will also be able to accommodate two bulk carriers at the same time.
Contacts at Nantes Saint-Nazaire Port -  Gaël Seyer et Marc Labegorre