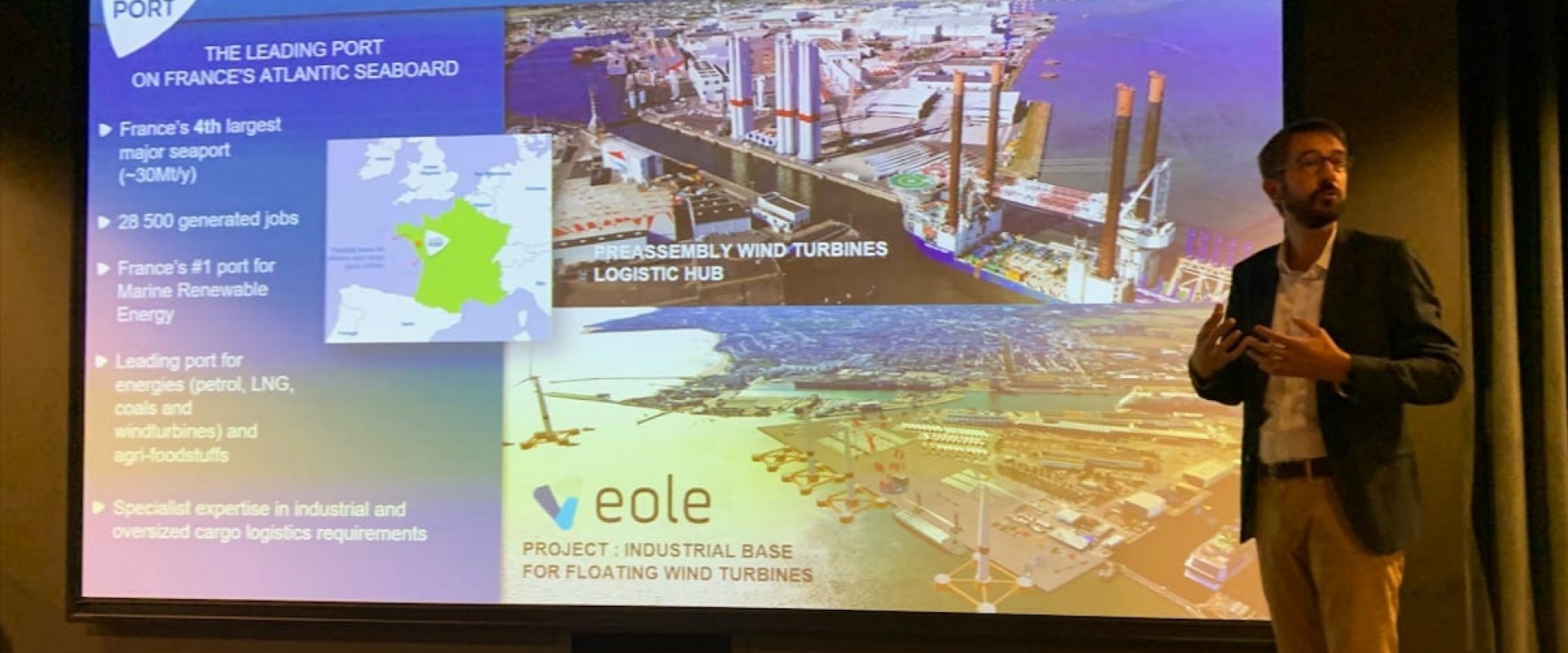 Meeting with Wind Power Sector Professionals in Norway
From 5th to 7th September, Nantes ‒ Saint Nazaire Port took part in two events in the wind power sector in Norway: a conference and a business expedition.
On the first day, the conference organized by RWE, a major player in the offshore wind power market, brought together in Stavanger seven foreign delegations (ministerial representatives, local and regional government officials, economic players, research specialists, and port authorities). On the following day, a business expedition led by the Franco-Norwegian Chamber of Commerce and Industry, the French Embassy in Norway and Norwegian Offshore Wind, in collaboration with Pays de la Loire Regional Authority, took place in Haugesund. The programme was rounded off with a visit to the offshore site of the MET Centre, where two 2.3 and 3.6 MW floating wind turbines are currently being trialled.
This trip offered the chance to consolidate understanding of the port-related challenges and requirements of this new sector of activity, and to hold discussions with other ports, notably in the United Kingdom, in Norway, and in California in the USA, which just like Nantes ‒ Saint Nazaire Port are committed to the process of developing new port capacity with a view to speeding up the deployment of future offshore wind farms.
Ports Are Adapting
The encounter represented the opportunity to present the experience gained in Saint Nazaire as regards fixed-foundation wind turbines and the current plans to adapt the port to the specific requirements of floating wind power via the Éole project, opening up many discussions with the representatives of the other ports present. In France, as elsewhere in the world, the adaptation of ports is an absolute necessity if the objectives for the deployment of future offshore wind farms are to be attained. With the first demonstrators already in operation in the Atlantic (IDEOL) and in the Mediterranean (PGL), and a first call for proposals in progress for a 250 MW floating wind farm off Southern Brittany, France is among the most proactive nations when it comes to helping this new floating wind power industry to emerge.
Contact at Nantes Saint-Nazaire Port – Ludovic Bocquier