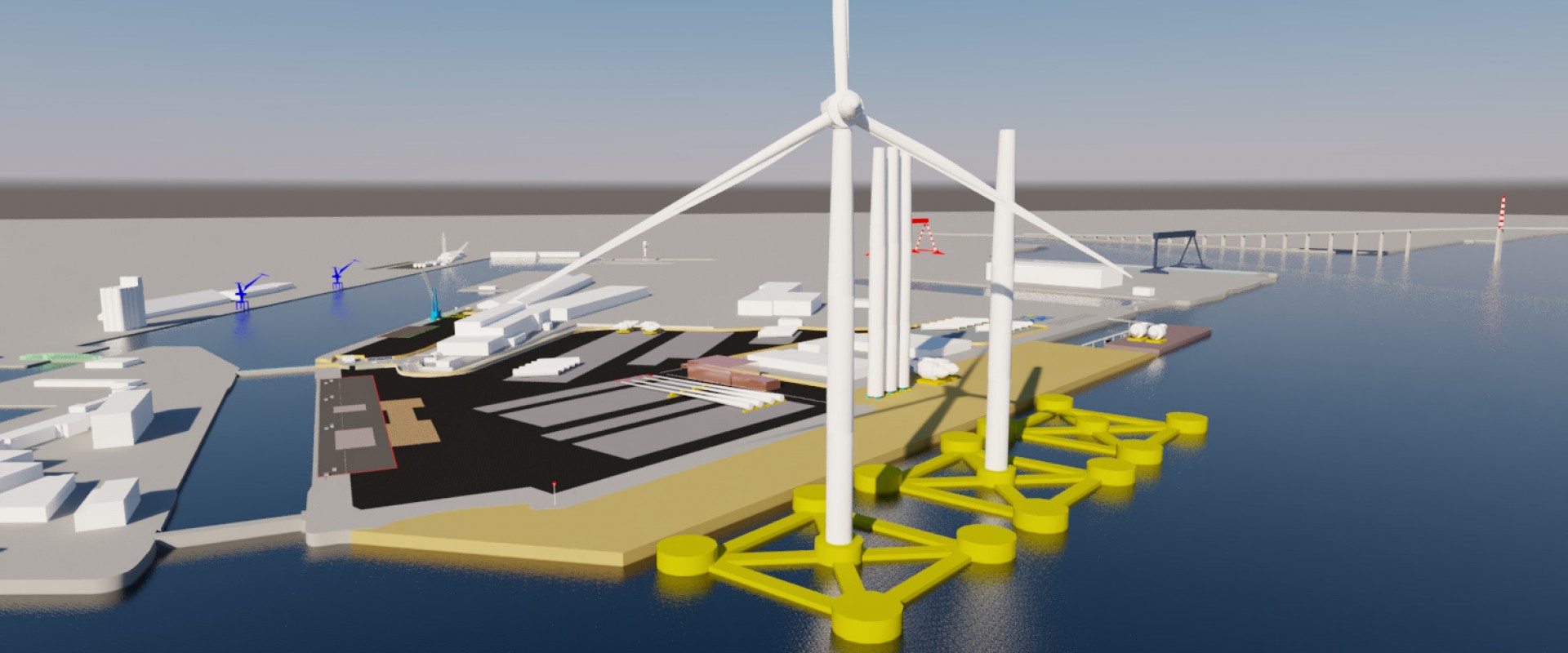 Floating Wind Power: Expertise in the Service of Industrial Firms
Nantes ‒ Saint Nazaire Port is among the forerunners with regard to offshore wind power, notably through its contribution to Idéol's Floatgen floating wind turbine demonstrator project. In order to support the expansion of this sector, the Port Authority is honing its expertise in the service of industrial firms, and is already looking ahead to the delivery of floating wind power.
After several years of studies and preparation, the construction of the Saint Nazaire wind farm has entered the active phase. Ever since 2012, Nantes ‒ Saint Nazaire Port has fully contributed to that project, by providing industrial, logistical and real estate solutions (accommodation of the General Electric factory, transformation of a 15-hectare site into a logistics facility for the pre-assembly of wind turbines, reinforcement of the infrastructures of the quays, investment in high-performance plant and equipment…).
A new call for tenders (AO5 Sud Bretagne) was issued in May 2021 in the area of floating wind power. It relates to the installation, by 2028, of fifteen or more floating wind turbines representing an installed capacity of 250 MW, off the Islands of Belle-Île and Île de Groix(1). Some ten industrial firms are competitively tendering.
So as to provide an interface with potential customers, Nantes ‒ Saint Nazaire Port has strengthened its team through the recruitment last summer of Omar Alaoui to the position of Floating Wind Power Project Leader. Supported by Nantes-based firm Narval Solutions, Nantes ‒ Saint Nazaire Port's Energy Sector Business Unit has notably been charged with identifying the challenges and requirements of the sector. The aim is to propose a specific port-based solution designed to meet the installation performance criteria expected by energy providers.
Into Another Dimension
« When it comes to marine renewable energy, and to offshore wind power in particular, Saint Nazaire and its Region lead the way at a national level in terms of employment and sales turnover," states Omar Alaoui. "But floating wind power takes us into another dimension. The new equipment integration base that is to be built as an extension to the existing assembly facility will have to be multi-purpose and to respond to new constraints as regards storage areas, load-bearing capacity of the quays, linear development, depth of draught, etc.".… »
(1) The name of the successful candidate for the first 250 MW tranche should be known at the end of 2022. A second call for tenders will follow for a new 500 MW tranche.