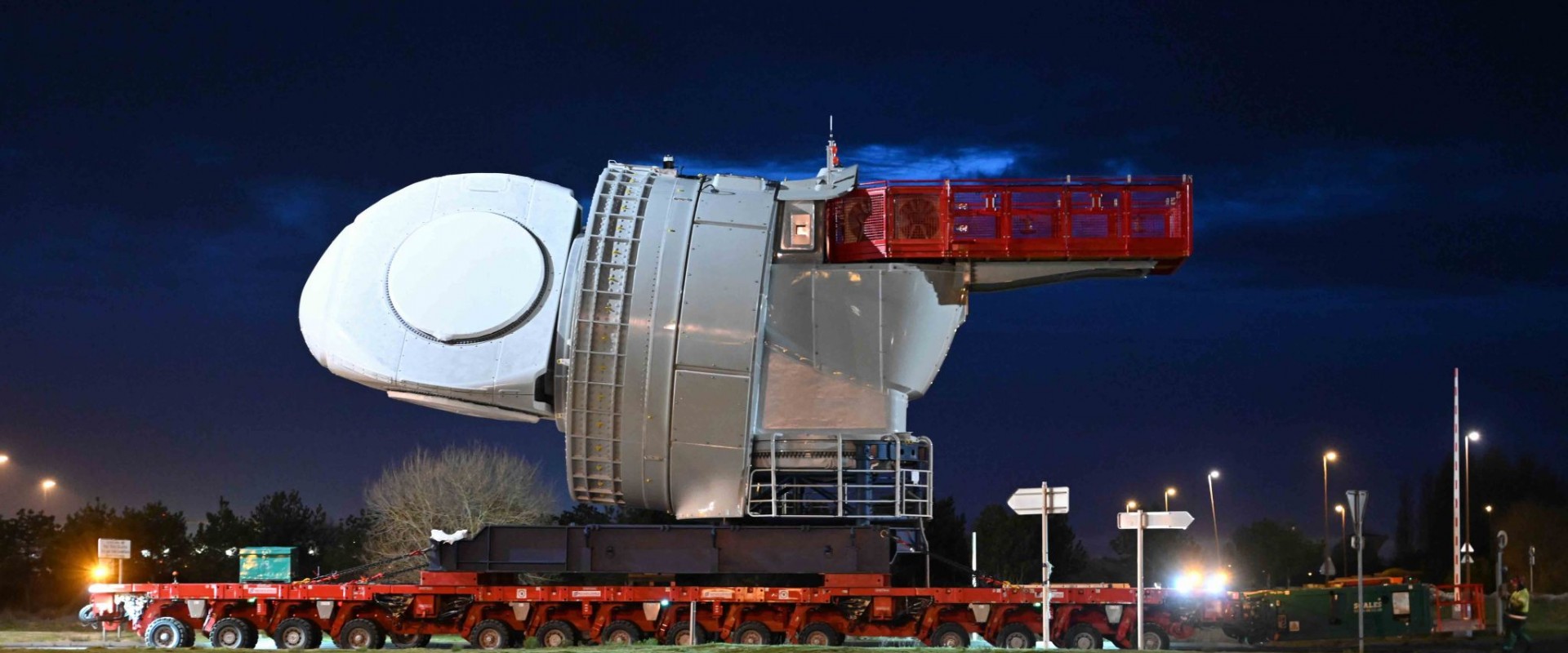 Expansion of MRE Logistics in Saint Nazaire
The activities relating to the installation of offshore wind turbines at the Banc de Guérande wind farm sited off Saint Nazaire are intensifying as the weeks go by, and should see rapid expansion as of May. Several port-based logistics operations are scheduled to take place in the course of April.
At the end of January, the large-scale port, logistical and industrial operations began with the delivery of the first sections of wind turbine towers arriving from Seville (Spain). In mid-April, 18 additional masts will be unloaded at the Quai de la Prise d'Eau quay, which is reinforced to a bearing capacity of 15 tonnes per m² and adjoins the 12-hectare assembly facility.
The delivery of a first e-stack ‒ the module that permits the electrical conversion of wind energy, located in the lower part of the masts ‒ took place at the end of January. The next modules, which are assembled by the Saint Nazaire company Clemessy Services, will be transferred from the Quai Oblique quay to the Quai de la Prise d'Eau facility on 8th April, using the barge operated by CLT.
40 Nacelles Soon on Site
In mid-February, following the transfer of the first of the 80 nacelles manufactured by GE Renewable Energy at Montoir de Bretagne, 39 others will transit by sea to the pre-assembly facility in the coming days.
Six wind turbine towers are currently at the assembly facility. The first e-stack with its integrated 15-metre-high mast, the first nacelle delivered by GE in February, and five horizontally stored masts are also on site. In a few days' time, it will therefore be possible to commence the offshore installation operations, with the construction of the foundations, the laying of the cables and the installation of the electrical substation, which has been manufactured by Chantiers de l'Atlantique and will come into service in 2022.
Support Base Now Operational
Built by EDF Renewable Energy, the maritime coordination centre for the Banc de Guérande wind farm project was opened early in February. Utilizing 3 dedicated floating pontoons, this support base located at the foot of the east lock now accommodates the teams of personnel who will be responsible for coordinating the offshore operations and for the daily embarkation of the groups of technicians deployed at sea.
Since 2012, Nantes ‒ Saint Nazaire Port has made a comprehensive contribution and provided industrial, logistical and real-estate solutions in support of the marine renewable energy (MRE) sector on the Loire Estuary. The Port Authority has accommodated the General Electric factory at the Montoir de Bretagne centre for industrial and logistical operations, redeveloped a 12-hectare site to transform it into a logistics facility for the pre-assembly of wind turbines, reinforced the infrastructures of its quays, and invested in high-performance plant and equipment.
Contact at Nantes Saint-Nazaire Port – Ludovic Bocquier