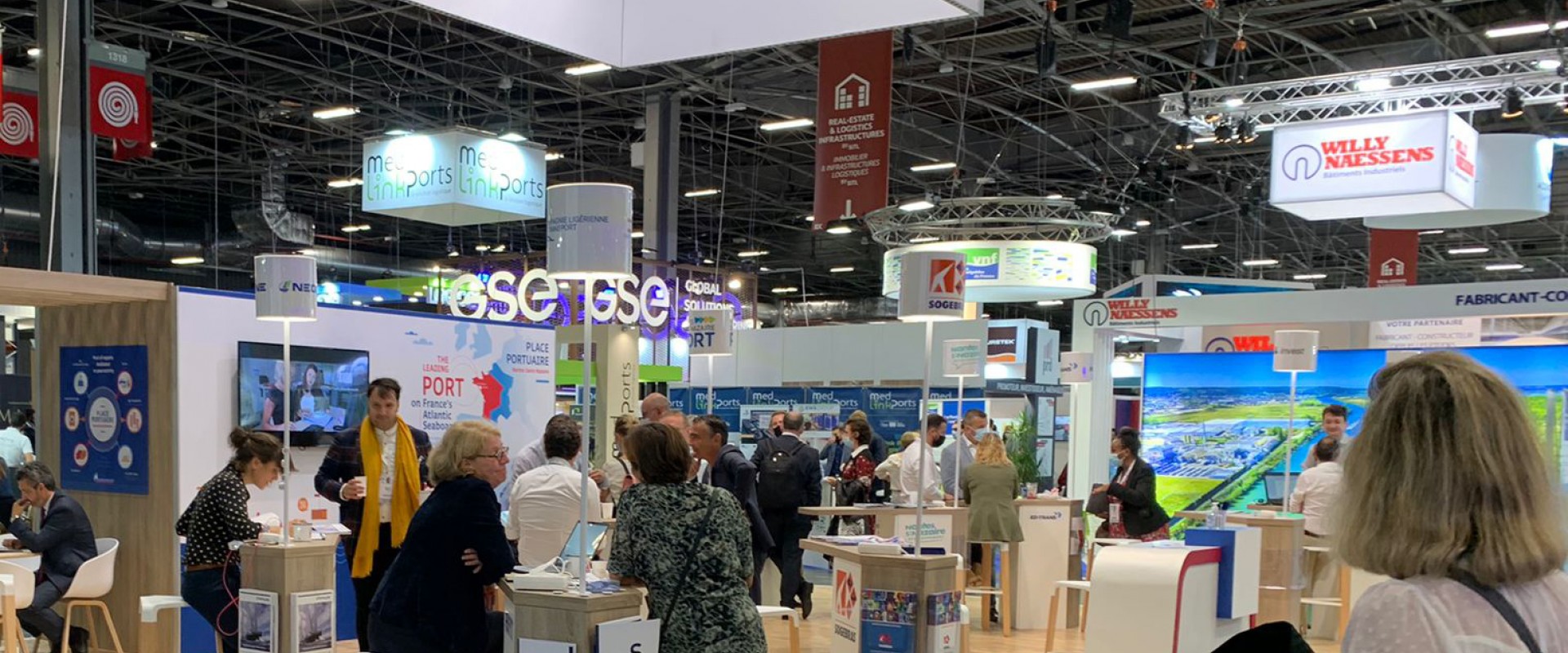 An Eventful Start to the New Season!
Since mid-September, Nantes ‒ Saint Nazaire Port's teams have been fully engaged in exhibiting, organizing or taking part as delegates or visitors in ten or more events. A first since the resumption of events attended in person.
The SITL International Transport and Logistics Trade Show was held at the Porte de Versailles Exhibition Centre in Paris, from 13th to 15th September. This trade show brings together all the innovative products and services dedicated to the logistics sector and to the supply chain. Working alongside Port Community firms on a joint stand, Nantes ‒ Saint Nazaire Port met with customers who are logistical service providers.
Animal Production and Nutrition
1 130 exhibitors came together at SPACE, the International Animal Production Trade Show, in Rennes from 14th to 17th September. The three days were punctuated by over 130 conferences. On 17th September, Nantes ‒ Saint Nazaire Port's representatives were also present at the International Raw Materials Forum in Rheu, close to Rennes. Co-organized every year by Nutrinoë and Feedsim, this event brings together operators in the animal nutrition sector.
Energy Transition, Sustainable Development and Innovation
Several events were devoted to this theme, beginning with Wind for Goods, in Saint Nazaire on 21st September. This day-long event on the topic of eco-responsible transportation by sea was the first ever national event dedicated to wind-powered maritime transport. Next came Seanergy, the international forum devoted to offshore wind power and marine renewable energy, which held its 5th edition in Nantes and in Saint Nazaire from 22nd to 24th September. In addition to the opportunity to promote the sectors concerned, this event served to grow the synergies between all the players, thereby furthering development on an international level. As an exhibitor at the event, Nantes ‒ Saint Nazaire Port presented its offers in terms of facilities, plant and equipment, and expertise in the service of the MRE industry. Lastly, the Port of the Future Forum held in Paris on 22nd and 23rd September aimed to bring together port industry players to deliberate on the future of France's ports and to promote innovation in the ports sector.
International Development and Logistics
As is the case every year, Nantes ‒ Saint Nazaire Port took part in the International Week event organized by the Pays de la Loire Chamber of Commerce and Industry. In Angers on 28th September and in Nantes on 30th September, the teams were present on a stand to assist firms in the Pays de la Loire Region in their development on an international level.
Contact at Nantes Saint-Nazaire Port – Morgane Chopin